Remembering Hilary Mantel - 'I have the warmest memories of Sheffield and its people'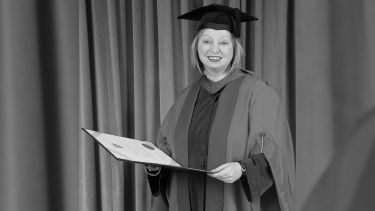 Dame Hilary Mantel (BJUR Law 1973, Hon LittD 2005) won the Booker Prize, with her masterpieces Wolf Hall (2010) and Bring Up the Bodies (2012). Her final novel, The Mirror and the Light (2020) was the final volume in the epic trilogy of the life of Thomas Cromwell. She was regarded as one of the greatest English novelists of this century. Here we reflect on her work and relationship with the University.

She first came to study at Sheffield in 1971, after spending a year in London at LSE. She met her future husband, Gerald, a Geology undergraduate, at the University and they married at the end of their second year. During an interview with Professor Brendan Stone, of the School of English Literature, Hilary spoke of her reasons to study Law:
I studied Law because I hoped it would give me a good career, and because I was passionate about politics, and law seemed a way in. There were also aspects of law I was passionate about; I still keep an interest in planning law tucked away, like a private vice. And we had an inspiring teacher for Criminal Law, Professor Wood, who had a dry sense of humour and who was kind to me. I didn't know, when I chose Law, that my health problems would escalate and that I wouldn't be able to have a career of that kind. The University looked after me when my health broke down."
After university, Hilary became a social worker, and lived in Botswana for five years, followed by four years in Jeddah, Saudi Arabia, before returning to Britain in the mid 80s to focus on her writing. Her most important works include Eight Months on Ghazzah Street (1988), a contemporary gothic novel set in Jeddah written out of her direct experience of living in Saudi Arabia, Fludd (1989), A Place for Greater Safety (1992), An Experiment in Love (1995). Her memoir, Giving up The Ghost (2003), was described by Hilary as an act of self-authoring: 'I was writing, as I said in the book, to seize the copyright of my own life'.
Her story-telling ability was incredible and this was one of the definitive factors in her success. During the interview Hilary commented:
When authors are described as good storytellers they often see it a dubious compliment; as Colm Toibin says, 'it sounds as if you got it from your granny.' On the other hand, I myself do like cinematic novels with a strong storyline, and I can't stand pages and pages of introspection, however fine the prose. So I try to write what I'd like to read. I imagine my stories in dramatic form, scene by scene rather than chapter by chapter. It's a very noisy place, the inside of my head."
Her work in literature brought her many admirers and much deserved recognition, and in 2014 she was made a Dame.
When asked to reflect on her time in Sheffield, Hilary said:
Sheffield was an easy place to be poor in; I mean that as a compliment. There wasn't the apartheid between residents and students that you experience in some places. I have the warmest memories of the place and people, and when I've been back in recent years I've felt people have been just as friendly."

To read the full interview with Hilary Mantel, please visit: Hilary Mantel in interview with Brendan Stone | Alumni | The University of Sheffield