Saying goodbye to Earnshaw and Sorby Halls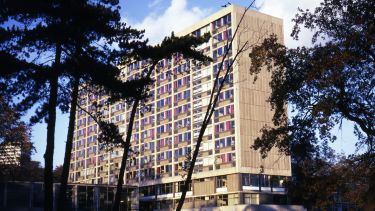 So long to Sorby Hall
Sunday 27 August 2006 saw the dramatic end of Sorby Hall of Residence, when it was demolished using a controlled explosion.

After dominating Sheffield's skyline for more than 40 years, Sorby was reduced to rubble in a matter of seconds with 30 kilos of explosives, making way for brand new student accommodation.

Peter Quarrell, the son of the first Warden of Sorby Hall, was given the task of pressing the plunger to start the demolition. His father, Professor Arthur Quarrell, was Professor of Metallurgy before going on to be Pro-Vice-Chancellor in 1958 and then warden of Sorby Hall between 1963 and 1971.

Staff and students have very fond memories of Sorby. Pat McGrath, Head of Accommodation and Campus Services, said: "Although it is sad to see Sorby go, it is time to move on. Our students want up-to-date accommodation and with the new Student Village they will get that and so much more. It is an exciting time for staff and students at the University and I can't wait to see the finished result."

New state-of-the-art accommodation for students will be built in and around the current Endcliffe and Ranmoor sites. The first phase of the accommodation will be handed over in September this year, with the construction project due to be completed in autumn 2009.
---
Fond Farewell to Earnshaw Hall
On 10 June, 125 Old Earnshavians gathered to mark the closure of Earnshaw Hall.

Former students from the days of hall wardens Leslie Moore (1965-73)and Tony Heathcote (1973-97) enjoyed a celebration buffet for families in the Heathcote Room and a dinner in the Earnshaw Dining Room.

Speeches were made and many toasts raised, with entertainment coming from the HLM Rockers, led by former student Chris Liddle. Special thanks went to all the staff who helped to ensure the event went ahead and to Bovis and the University's Alumni Foundation for their kind donations. Those present definitely made sure that Earnshaw Hall went out with a bang!