Scaling 42 Lake District Peaks for Parkinson's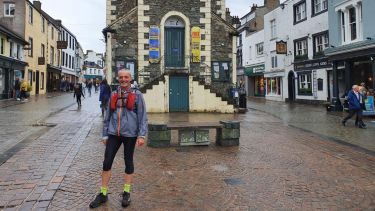 Fresh from completing his 15 trig point challenge (an 89km run starting from Sheffield and visiting 15 trig points in the Peak District) for the Big Week, IT Services staff member Mike Griffiths just couldn't stop there.
He decided to complete the iconic Bob Graham challenge. On Friday 25 June at 6:45pm he left the town of Keswick in the Lake District and climbed 42 Lakeland mountains, covering a distance of 66 miles and 26,000 feet of ascent in under 24 hours. 
Not only did he complete it, but thanks to the generosity and support of his friends and family, he raised almost £1,500 and counting for Parkinson's disease research here at the University.
Talking about his preparations for the biggest challenge of his life Mike said:
"As well as raising money for this excellent cause, I will be rewarded with an exploration of the Lake District's beautiful mountains. This challenge, called the Bob Graham, is not to be taken lightly - the mountains are fickle and must be approached with respect. 
"It's taken more than 3 years to prepare for this with lots of support, help and coaching from Dark Peak Fell Runners. I am so grateful for the support that people have offered for the day, including my family, Castle Mountaineering Club Friends, and friends from the Dark Peak who will run with me and support my attempt."
And how he felt after reaching the finish line at Moor Hall in Keswick, and being rewarded with a free pint:
"Wow, what a fantastic opportunity to run for 24 hours around 42 of the most beautiful mountains in the Lake District. I completed the Bob Graham round in 23 hours and 51 minutes. Thank you to a fantastic team of people helping and encouraging me around - even mentioning how much money we had raised which was such a boost. 
"Most of all, thanks for the generous donations from everyone who sponsored me. I have received so many comments regarding personal experiences with Parkinson's, it is so humbling. I am so grateful for everything, people have been so kind!"
Definitely the least you deserved Mike!