Sheffield charity fundraiser awarded Distinguished Alumni Award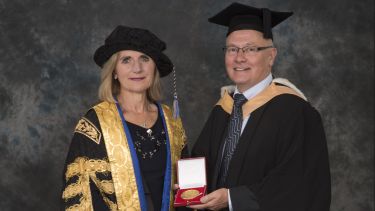 During the Summer 2017 graduation week Sheffield Mathematics alumnus David Fyfe (BSc Mathematics 1972) was awarded the Professor Robert Boucher Distinguished Alumni Award, in recognition of the £1 million he, along with his family and friends, have raised for Sheffield's Children's Hospital.
The Award recognises alumni who have achieved distinction in their profession and made outstanding contributions to business and community life and is named in honour of our late former Vice-Chancellor.
David Fyfe was born in Grimethorpe, the famous mining village near Barnsley and, after displaying a real talent for mathematics during school, joined the University in 1969. David loved his time here, participating in sport and taking advantage of the vibrant musical scene, which brought bands such as Paul McCartney and Wings, Ray Davies of The Kinks and The Beach Boys to Sheffield. In 1972 David graduated with a first-class degree.
Following his studies, David worked in finance as an actuary having moved to York, but returned to Sheffield in the late 1980s. In 1993 he set up his own business, Fyfe Financial Planning, offering sound advice and good value for money to his clients based on his 25 years' experience working in financial services.
---
We are overwhelmed by the support David and Jean have given the charity over the years. Thanks to their tireless fundraising efforts, we can bring new facilities to the hospital - making it better for children who come from all over the world for the hospital's specialist care.

David Vernon-Edwards

Children's Hospital Charity Director
---
In 1990, David and his wife Jean (who married during David's first year of university) were talking with their friends, Sandra and Nigel Worthington. Nigel was the left back for Sheffield Wednesday and Northern Ireland and their son had been treated in Sheffield's Children's Hospital. In gratitude, they decided to try to raise some funds by bringing together the sporting and business communities.
In support of Children's Hospital Research in Sheffield (CHRIS) they set to work organising a ball at the famous Sheffield venue, Baldwins Omega. They thought this would be a 'one-off' but it was very successful, raising £5,000.
Success breeds success and, 27 years later, the now-annual Daffodil Ball (named after the flower as it takes place in spring) is one of the most popular events on the Sheffield social scene. With the support of Jean, his family and his friends, David has raised the astonishing figure of over £1 million for Sheffield's Children's Hospital.
The impact that David's fundraising has had on the hospital and the children it serves is huge, as it has enabled the purchase of specialist medical equipment over and above the standard NHS provision. Highlights include a portable ultrasound for babies in neonatal care, which allows them to be tested in their own cots, a ground-breaking 3T MRI scanner, as well as a state-of-the-art new burns treatment room and outpatient area, which has transformed the experience of burns' victims at the hospital.
The Professor Robert Boucher Distinguished Alumni Award
The Professor Robert Boucher Distinguished Alumni Award, for alumni of the University, is named in honour of the late former Vice-Chancellor Professor Robert Boucher.
Professor Boucher had a great interest in alumni relations and gave so much to the city of Sheffield over a period of 40 years. He fully appreciated the important contribution that alumni continue to play in the life of a University and was responsible for establishing the University's Development and Alumni Relations Office in 2002.