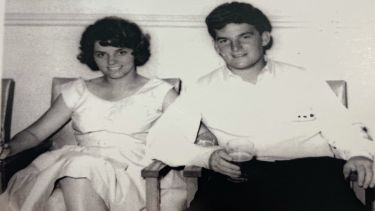 Jack's influence and personality was something which impacted the lives of many. From those closest to Jack we have learnt that he was an avid golfer, had a passion for cars, was a self-made man and a lover of Rhodesian Ridgebacks. Jack leaves behind a life well lived and fond memories for those who knew him. The University is grateful for the support that Jack made during his lifetime and through a gift in his Will. Thank you to Jack's god children Arnie, Indy and Sunita who have provided details about his life. 
In his 20's Jack started playing golf and went on to become an elite amateur golfer. He won many Sheffield and Yorkshire amateur titles, representing Yorkshire and England. His passion for golf continued throughout his life holding memberships at Concord, Tinsley, Hillsborough and Lindrick golf courses. Jack's golf clubs travelled everywhere with him. 
The list of Jack's vehicles is impressive. His first car was a Humber Hawk estate, he used this to start his building career, bricklaying and fixing roofs damaged by storms in the 1960s. Not content with the ordinary, Jack even purchased a fibre-glass kit car. After helping to build Portland Autos in Sheffield, the city's first Nissan dealership, he owned a Nissan 240z sports car and a Hiace pick up. After a Granada Ghia and a Pontiac Firebird, Jack imported a Lexus Soarer as he demanded a sports car that has a boot large enough for his golf clubs. 
Jack had a great love of Rhodesian Ridgebacks and he spent hours walking them on Wadsley Common. At one time, he even had three of them, all called Ben. They took pride of place in his car and you could regularly see Jack driving past with one of the dogs in the front seat. Rhodesian Ridgeback's are well-known for their ferocity when in their role as hunters and guardians. Whilst Jack would be away playing golf, family members were asked to take care of the dogs and they couldn't even get into the house. On one occasion food had to be posted through the letterbox. 
 
As a successful self-made businessman, Jack always had a skill in being able to see a situation from every angle and to spot an opportunity.  Together with his business partners Peter Hayman and Ray Lees, Jack founded, built and established the Pinegrove Country Club in Stannington. Pinegrove was incredibly popular with its members. People from all walks of life would enter the club and Jack welcomed them with open-arms. There were terrific sporting and social facilities. The staff particularly enjoyed working there as Jack would always give them a choice of a Sunday roast to keep them going. Following Pinegrove, Jack turned his business mind towards City Taxis. Much of the company's early growth was thanks to Jack's business acumen. City Taxis now sits as the region's number one taxi company covering Barnsley, Chesterfield, Dronfield, Derby, Rotherham and Sheffield. 
An underlying theme of all Jack's businesses is that they all have been major contributors to local charities. Jack wasn't one to shout about his philanthropy but he had a quiet passion for helping others less fortunate than him. 
Jack might not have been a University of Sheffield graduate, but after his treatment at the Royal Hallamshire Hospital he could see that supporting the University's medical research had the power to help others. In 2017, Jack made a donation of £10,000 to myeloma research carried out by Dr Andrew Chantry. At the same time as making a donation, Jack also remembered the University with a gift in his Will. His legacy gift of over £6,000 has been allocated to support Dr Chantry and the Sheffield Myeloma Research Team who are dedicated to searching for a cure for this type of blood cancer. They are developing new and existing drugs to treat myeloma and paving the way for new diagnostics and therapies. 
Jack's gift will undoubtedly transform the lives of those living with myeloma. We are immensely grateful for the generosity and kindness of our donors, whether they are graduates of the University or not. 
If you would like to follow in Jack's footsteps and leave a gift in your Will to the University, please contact the University's Legacy Officer, David Meadows, on 0114 222 1073 or d.meadows@sheffield.ac.uk.