The Story of Sheena Waitkins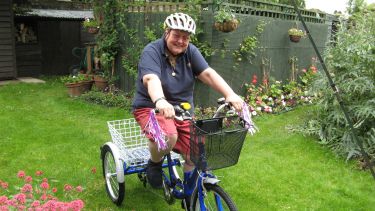 Through her family we have learnt more about Sheena. She was described as a 'formidable character to the uninitiated', although she had a tough exterior, most of all she is remembered for her kindness, intelligence and brilliant storytelling. She started her studies at Glasgow University, then later came to Sheffield and went on to Cambridge. After graduating, she had a wonderful scientific career that spanned 45 years and ended it as a teacher where she handed down her knowledge and wisdom to the next generation. Sheena was interested in local politics, using her retirement to immerse herself in it and was prepared to make herself unpopular for the greater good. A common theme throughout Sheena's life was her generosity and care for those around her.
Thanks to Dr Waitkins' generous legacy gift, students now entering the four-year Graduate Entry Medicine programme can now receive a scholarship to address a funding shortfall between available tuition loans and their first-year fees. Launched in 2019, the programme works to widen the number of students entering a medical degree from typical areas of low participation in higher education. It allows students, such as those with a degree in biomedical science or related medical subjects, to use their transferable medical skills and experience to fast-track straight into their second year at the Medical School.
 
One student benefiting from Sheena's generosity is Beth, the eldest of 5 children, she wanted to study medicine from the age of 16 but due to circumstances at home was unable to get the A Level grades she needed. After taking a gap year as a care assistant she went on to study Medical Physiology at Nottingham, but missed the clinical practice and interactions with patients on the course. This led to her working as a medical secretary. Beth also gained valuable work experience as a clinical trials assistant working with colleagues to offer experimental treatments to COVID patients and following that is now a current student on the Graduate Entry Medicine programme at Sheffield. The scholarship has allowed Beth to replace her outdated laptop and begin driving lessons (both invaluable resources for her course) She is also considering taking a year out to complete a research project which is something she never imagined would be possible. 
I would like to say thank you so much for this generosity. It has helped me with my studies and my life in general immensely and opened up possibilities that simply weren't there before.

Beth
---
Programme Lead for the new graduate-entry programme, Dr Shah Nawaz, said: "This is a new chapter for the Medical School here at the University of Sheffield. The fact that the University is able to support these students and provide those opportunities going forward for more young people to study medicine is vitally important. Widening access to our courses reflects the national requirement for increased numbers of doctors and fits with the University's civic mission. It demonstrates that we are committed to investing back into the people of Sheffield by educating new generations of doctors who will care for our communities in the years to come. We are extremely grateful for Dr Waitkins' support". 
 
My Aunt Sheena was the most amazing human being. She was the kindest, most generous woman you could ever hope to meet. I miss her so much, but her legacy lives on in the tremendous gift she has left to these students, and the incredible work they will go on to do.

Cara Clapham - Sheena's niece

The University would like to thank Cara for the information she has provided to help contribute to this article. 
If you would like to follow in Sheena's footsteps and leave a gift in your Will to the University, please contact the University's Legacy Officer, David Meadows, on 0114 222 1073 or d.meadows@sheffield.ac.uk.