Two Sheffield festivals take to the web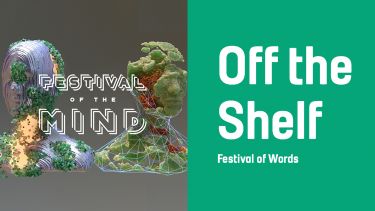 In response to the ongoing necessity for social distancing, the University has had to react quickly and rethink how we deliver some of our biggest events to allow them to continue, and still provide the same great experience for audiences. After a busy summer of planning we are delighted to share details of this year's Festival of the Mind and Off the Shelf.
---
Festival of the Mind
17 - 27 September 2020
Festival of the Mind, our unique event showcasing the University's cutting edge research through collaborations with local artists and creatives, is back for the fifth time. For the first time this year's events - including podcasts, films and performances - will be hosted in a new online festival hub enabling Sheffield's creative talent to be brought to a wider audience.
Following the themes of Sustainability, Extinction, Hope, Artificial Intelligence, Climate Change and Health, this year's festival will put creative talent and culture back into the heart of the city.
The iconic Spiegeltent - normally a fixture in Barkers Pool for the event - has been recreated digitally and will continue to be the home and heart of the festival through its digital reincarnation. The festival will also bring a limited number of live events to Sheffield safely, with interactive exhibitions of virtual realities open to the public at Futurecade in the Millennium Gallery, and a gallery of inspiring artwork on display at Sidney & Matilda.
The outline programme for the festival will be available on the Festival of the Mind website from 14 September 2020 with the full programme released daily from 17 September 2020.
---
Off the Shelf
9 - 30 October 2020
The leading literary festival is back, headlined by an array of Sheffield alumni and incorporating a host of free events. 
Beginning on 9 October, the literary festival will be opened by a talk from award winning crime author and noted Sheffield alumnus Lee Child, about his fascinating life and work, together with his biographer Dr Heather Martin.
Other familiar names appearing (including a number of Sheffield alumni) include: British Poet Laureate Simon Armitage, Lemn Sissay, Helen Mort, David Olusoga, Kit de Waal, Luke Jennings, Stuart Maconie, Susie Dent, Jonathan Porritt, Nazir Afzal, Dan Walker, Heather Morris, Roger Robinson, Luke Harding, Candice Brathwaite and Michelle Rawlins with Women of Steel.
The full programme is live on the Off The Shelf website, with 80 per cent of events free for the public. As well as live and pre-recorded free online events, Off the Shelf will be one of the first literary festivals this year to include some ticketed live events with an audience.
Off the Shelf has also set up a Just Giving page and hopes that people will donate and help the festival to remain sustainable and accessible for audiences, authors and performers, readers and writers. The money raised will go back into the festival to help it continue to run for years to come.