Weston Park Hospital's Golden Anniversary - celebrating the work of the Sheffield Trophoblastic Disease Centre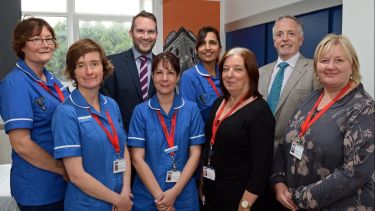 The Sheffield Gestational Trophoblastic Centre was established in 1973 - three years after the official opening of Weston Park Hospital, as it was then known.
We caught up with Kam Singh, Lead Clinical Nurse Specialist at the Centre as part of Weston Park's golden anniversary celebrations.
I first came to Weston Park in 1995 on a student placement year. What stands out in my mind was the philosophy of care, how patients were treated and how their individual needs were met. I also loved the rapport senior members of staff had with junior members, the friendly open approach but at the same time there was clear respect and professionalism. I worked as a support worker throughout my training on the Weston Park bank on wards two and three. I was one of the lucky ones to get a job months before I qualified. Having built a good relationship with both wards I found it really easy to fit in, I was so enthusiastic I relished the challenge.
The opening of the teenage cancer unit was a momentous occasion and has changed the care the teenagers and their families receive, making the diagnosis and their journey somewhat bearable.
The development of the emergency admissions unit has had a huge impact on patients and the team at Weston Park; streamlining the care/support the patients receive, dealing with calls in a proper set up by trained members of staff.
I was one of the first core members when the Teenage Cancer Trust Unit opened in 2002. It was an exciting time. Seeing the difference the environment made to the lives of teenagers and the care and support they received. I recall the first teenager who was transferred from ward three on the opening; a 19 year old, shy, quiet individual, who was so different on the teenage unit. It was like he could be himself and started opening up.
I have had the pleasure of getting to know some amazing and inspirational patients over the years, in particular being part of a team who has had the pleasure of nursing an incredible patient diagnosed with postpartum choriocarcinoma in 2017. Tragically this patient relapsed in 2018 presenting paraplegic on New Year's Day. She was nursed for five months on the teenage cancer unit with intensive two weekly chemotherapy, away from her 14 month daughter and family. She was informed by the neuro doctors that it would be unlikely she would walk again as she presented with no movement in her legs. The strength, determination and resilience this patient showed over those five months was truly remarkable. She was transferred to a spinal unit for a further six months, where she received intensive rehabilitation; she is now walking with the aid of a stick and remains in remission. We as a team will never forget what she went through over the last three years and she holds a very special place in my heart. 
You can read more about Lucy's story on the Sheffield Teaching Hospitals website.
Being a small hospital everyone knows each other, it is a really friendly place and I think patients notice this straight away. We always go above and beyond to make our patients stay as easy as possible, and meeting their individual needs. I think staff have an understanding of how emotive the disease can be and how it changes the lives of these patients. Our job is to make sure we make that journey as bearable as possible and under their circumstances give them the best possible care.
I think we should all be very proud to have the Trophoblastic Disease Centre based at Weston Park Cancer Centre; alongside our colleagues in London we are the world leaders in trophoblastic diseases and our continuous research helps improve the lives of women diagnosed. The team are all very passionate about their work, it's a privilege coming to work and making such a difference to patients' lives.
Kam Singh
Lead Clinical Nurse Specialist, Sheffield Gestational Trophoblastic Centre