Why I volunteer - Bryan Walker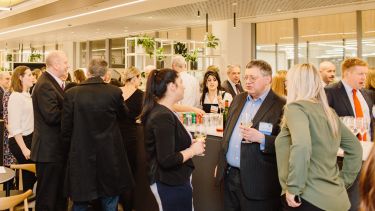 How did your time at university help you get where you are today?
My time at university was about much more than just the degree certificate, although that is of course very important! I embraced the extra-curricular opportunities on offer at Sheffield - I was heavily involved with AIESEC (International Association of Students in Economic and Commercial Sciences), the world's largest youth leadership organisation, as well as being part of the staff-student committee of the Economics department. Being able to demonstrate to prospective employers that I had used my time at university productively was key to launching my career, and the skills and experience I gained have been the foundation for my continued professional development.
Can you tell us about your career journey so far? What have been the defining moments?
I've had a very international career journey, starting with a year in Venezuela straight after graduating, where I worked for AIESEC. Next I spent 14 years with Standard Chartered Bank, initially joining on their graduate programme in London, but quickly moved overseas - Uganda, Dubai and New York - mainly in corporate banking and trade finance roles. Then I joined Dfin, a boutique corporate advisory firm that specialises in the diamond industry. Fairly recently (since May 2019) I've been with an early-stage fintech company based in London (Previse) that has developed the next evolution of supply chain finance, in the role of Director, Funding Solutions. I'd say the defining moments were my various moves to different countries - I learned a lot from adapting to new situations and this is what has shaped me into who I am today.
What motivated you to become an alumni volunteer? And why is it important to you to stay connected to your university?
I strongly believe in giving back. I gained so much from my time at Sheffield, and I'm keen to help current students as they start their career journeys. It is also a great opportunity to network with other alumni, many of whom are doing amazing things in their careers. It reinforces what a great university Sheffield is, and I'm pleased to see it continuing to go from strength-to-strength.
What did you most enjoy about participating in City Connections?
It's great to see the current students' eyes light up when they talk to me and other alumni, as they realise that the business world isn't so intimidating after all!
Why is it important for current students to have the opportunity to meet alumni at events such as this?
I was the first in my family to go to university and I think it's even more difficult now than it was when I graduated 20 years ago, if you don't have a good network to help you. Being able to spend time informally with alumni I believe is very powerful for current students, to find out more about potential career paths and get advice on starting out.
What advice would you give to someone thinking about becoming an alumni volunteer?
It's extremely rewarding, both in terms of being able to give back to the University that gave so much to me, and also from a professional networking perspective with other alumni. The University has a great team that runs these events, they are always well-organised and grateful for alumni time, however little or much you are able to give.