Honorary graduates
Each year the University recognises a series of individuals who have made significant achievements in their fields or profession, or who have contributed to the betterment of Sheffield. Among those who have been recognised are a few surprising names you might know.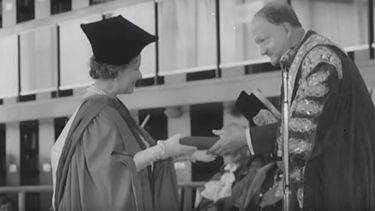 HM Queen Elizabeth the Queen Mother
Hon DMus 1966
Sheffield is no stranger to royal visits and in 1966 our beloved Arts Tower had just been completed. To mark the opening of the building Sheffield was visited by HM Queen Elizabeth the Queen Mother, who received a tour of the new tower and visited the Department of Architecture, as well as being honoured with a Doctorate of Music. A video was also made at the time capturing her visit to the University, her award, and her tour taking in the views from the Arts Tower.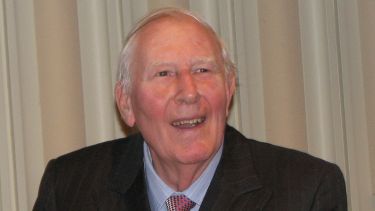 Sir Roger Bannister
Hon DSc 1978
Sir Roger Bannister is a noted physician, academic and former athlete who is most well-known as the first person to run a mile in under four minutes. Sir Roger achieved the feat in May 1954 whilst practising as a junior doctor and with only limited training. Sir Roger went on to become a distinguished neurologist, making significant contributions in the field of autonomic failure (automatic responses within the nervous system), and becoming the Master of Pembroke College, Oxford. He was also the first Chairman of what is now Sport England and received his Knighthood in 1975.
Image source: bit.ly/1oVoMlY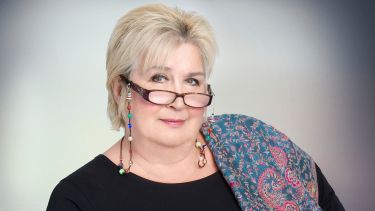 Dame Jenni Murray
Hon LittD 2004
Born and raised in Barnsley, Dame Jenni went on to become a well-known and respected journalist and broadcaster, best known as the voice of BBC Radio 4's 'Woman's Hour'. Dame Jenni has had a long, successful career with the BBC, starting out on local radio before moving to present Newsnight in the early 1980s. She later moved back to radio, presenting the 'Today' programme, before taking over Woman's Hour in 1987. She has also written and campaigned on a wide range of social equality issues.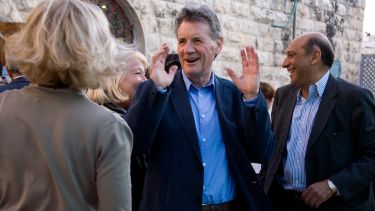 Michael Palin
Hon LittD 1992
Despite having travelled around the world (several times over) Michael still holds his home city of Sheffield very dear to his heart. Though in recent years he is best known for his travel programmes and writing, arguably the greatest mark he has put on the world is as one of the writers and performers of 'Monty Python'. Formed during his days at university in Oxford, Monty Python has been of tremendous influence on comedy and allowed Michael to fulfil his dream of writing.
Image source: flic.kr/p/6qEidL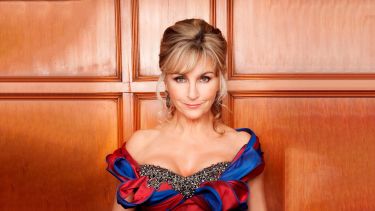 Lesley Garrett
Hon DMus 1997
Lesley has had an extensive musical career as a soprano singer, songwriter and broadcaster. She is a graduate of the Royal Academy of Music, making her professional debut in 1979. Five years later she became the principal soprano with the English National Opera. She has performed in numerous operas both across the UK and around the world, as well as regularly singing at major sporting events. She is now a member of the board of the English National Opera, and in 2002 was appointed a CBE for services to music.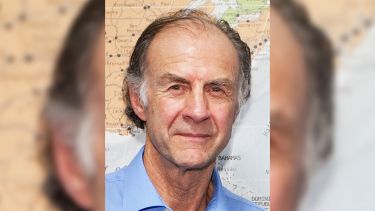 Sir Ranulph Fiennes
Hon DSc 2005
A celebrated adventurer, and called 'the world's greatest explorer', Sir Ranulph has spent time searching for lost desert cities, explored the Nile by hovercraft, and parachuted onto glaciers in Norway. All this comes after a career in the military and an attachment to the SAS, which ended when he blew up part of the set of the film 'Doctor Dolittle' in 1967 as a protest against environmental damage. In the following years Sir Ranulph carried out several polar expeditions, including walking across the whole of Antarctica.
Image source: bit.ly/1RCTPMz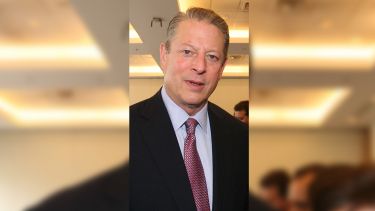 Al Gore
Hon LittD 2007
A former Vice-President of the United States, Al served alongside Bill Clinton and witnessed the longest period of sustained economic growth in American history. However, since then he has turned his focus back to his passion for the environment. He has campaigned strongly in support of and sharing the message of, the threat which global warming and climate change pose. In 2006 he released the film 'An Inconvenient Truth' which brought the issue of global warming to a worldwide audience.
Image source: flic.kr/p/7pGdfg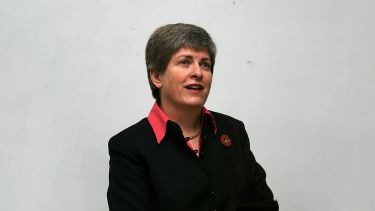 Vanessa Lawrence
BA Geography 1984, Hon DSc 2001
As well as receiving an honorary degree from the University Vanessa also completed her undergraduate degree in the Department of Geography in the mid-1980s. Her career has taken her through publishing and working on information systems that provide spatial data and its analysis, before her most significant appointment with the Ordnance Survey. In 2000 she became the youngest and first female head of the OS, a position she held until 2014. She is now the Co-Chair of the United Nations Committee of Experts on Global Geospatial Information Management (UN-GGIM).
Image source: bit.ly/1Riezqc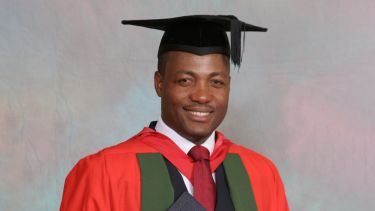 Brian Lara
Hon LittD 2007
Former Trinidadian cricketer Brian Lara is widely acknowledged as one of the greatest batsmen of all time. Through his 16 year career he built a reputation for exceptional skill with the bat, achieving the highest individual score in first-class cricket, scoring 501 for Warwickshire in the only quintuple hundred in first-class cricket history. He also established a charitable foundation to address health and social issues in his home country of Trinidad and Tobago, as well as acting as a sporting ambassador around the world.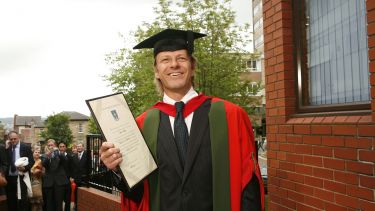 Sean Bean
Hon LittD 2007
A proud Sheffield man through and through, Sean Bean is known for his performances on stage, television and the big screen. Through his varied career he has performed with the Royal Shakespeare Company, made his breakthrough in the Napoleonic War drama Sharpe, and has gone on to film roles including a Bond villain (in 1995's GoldenEye) and Boromir in the Lord of the Rings trilogy. He is still an ardent Sheffield United fan so maintains a close link to the city, including being one of the inaugural members of Sheffield Legends on the walk of fame outside the Town Hall.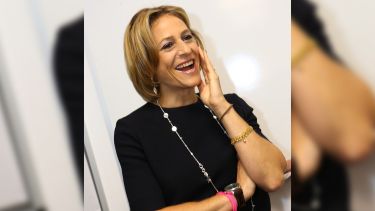 Emily Maitlis
Hon LittD 2015
Emily is one of the BBC's most respected journalists and a main presenter of the flagship current affairs programme Newsnight. She has a reputation as a formidable interviewer, questioning major political leaders, sports personalities and celebrities – including American politicians Bill Clinton and Henry Kissinger, all of the last four UK Prime Ministers, David Beckham, Hugh Grant and Facebook founder Mark Zuckerberg. Emily was born in Canada then raised and educated in Sheffield, attending King Edward VII School, before going on to study at Queens' College Cambridge.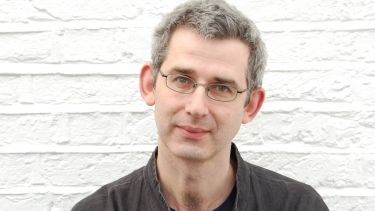 Edmund De Waal
PG Dip Japanese 1992, Hon LittD 2013
British artist Edmund De Waal is best known for his large scale installations of porcelain vessels, as well as being the author of several books. Edmund studied pottery during his late teens, before reading English literature at Cambridge. In 1988 he moved to Sheffield to return to his love of pottery. After completing a postgraduate diploma in Japanese at the University he travelled the world, including visiting Japan, in pursuit of his passion. He has since made major installations for Chatsworth House, Tate Britain and the V&A, as well as the University of Sheffield in the Western Bank Library.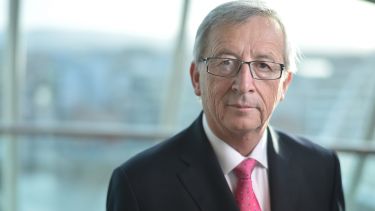 Jean-Claude Juncker
Hon LittD 2012
Since 2014 Jean-Claude Junker has served as the President of the European Commission, the effective head of the European Union. Before this he had served as the Prime Minister of Luxembourg from 1995 to 2013, governing with an easy, approachable style, and a commitment to social cohesion. His career as a financial expert stretches back even further, as before being elected Prime Minister he served as the Governor of the World Bank for six years, including being one of the principal architects of the Maastricht Treaty.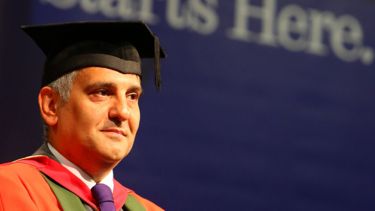 Toni Minichiello
LLB Law 1996, Hon LittD 2013
Toni is an outstanding athletics coach, best known for his partnership with Sheffield's own Jessica Ennis-Hill. Toni started coaching as a hobby in his late teens, and during this time a colleague encouraged him to study Law at the University, which he did, graduating in 1996. However his passion was for coaching and in 1999, while running summer camps at Don Valley, Toni and Jessica's paths first crossed. From there they were an unbeatable partnership, culminating in Olympic Gold in 2012. He continues to work with Jessica, as well as adding his expertise to the London Olympic Legacy projects.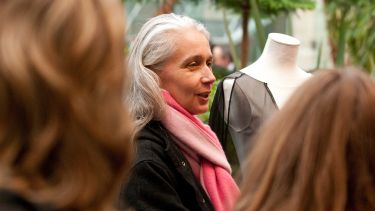 Helen Storey
Hon DSc 2013
Professor Storey is an innovative and award winning fashion designer, regarded as one of the leading figures in the fashion world through the 1980s and 1990s. As well as currently being Professor of Fashion Science at the University of the Arts in London, she also collaborates frequently with Sheffield, including looking at ways to utilise our catalytic fabric developments within the fashion world. She also established the Helen Storey Foundation, a not-for-profit organisation inspiring new ways of collaborative thinking across art, science, design and technology.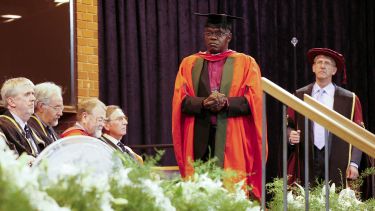 The Most Rev and Rt Hon Dr John Sentamu
Hon LittD 2007
The Most Rev and Rt Hon Dr John Sentamu is a former lawyer and the current Archbishop of York. Born in Uganda, he originally trained and practised there before coming to the UK in 1974. He was ordained in 1979, having read theology at Cambridge, and from there spent his time working for the church across England. He is a member of the House of Lords and a Privy Councillor, and still acts as an advisor within the legal profession, notably during the Stephen Lawrence Judicial Inquiry and the Damilola Taylor Murder Review.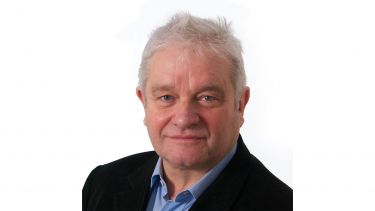 Sir Paul Nurse
Hon DSc 2005
Sir Paul is a Nobel Prize winning geneticist, a fellow of the Royal Society, and the Director of the Francis Crick Institute. He was awarded the Nobel Prize jointly with Leland Hartwell and Tim Hunt in 2001 for their discoveries of protein molecules that control the division of cells. This work has helped to explain how a cell controls its cycle of growth and division, of particular importance to cancer research. His current role at the Francis Crick Institute sees him leading a multi-disciplinary group dedicated to understanding the scientific mechanisms of living things.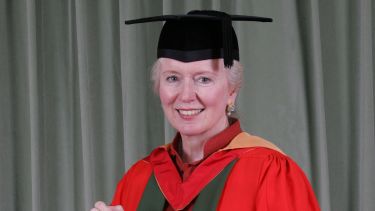 Dr Gillian Samuels, CBE
BSc Physiology 1966, Hon DSc 2006
Dr Gillian Samuels studied Physiology at Sheffield. After leaving Sheffield she went on to complete a PhD in experimental neuropharmacology at the University of Birmingham, before joining the pharmaceutical giant Pfizer as a research scientist. Gillian worked on the creation of numerous important drugs, the most well-known of which was the Viagra drug which had originally been developed as a treatment for angina. She later took on the role of Director of Science Policy and Scientific Affairs, with responsibility for advancing critical policies for education, science and healthcare.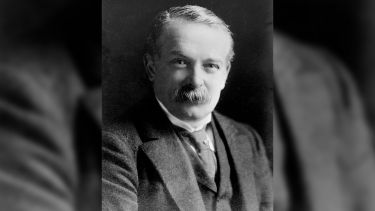 The Rt Hon David Lloyd George
Hon LLD 1919
Former Prime Minister David Lloyd George was awarded an honorary degree by the University in October 1919, and following the presentation of his award he was 'chaired' round the Firth Court quadrangle in a litter by medical students. The Right Honourable Lloyd George is most well known as the Prime Minister of the Wartime Coalition government during the First World War, and for the years that followed. Originally trained as a solicitor, Lloyd George went on to become Prime Minster having served as Chancellor of the Exchequer and in senior roles during the war effort.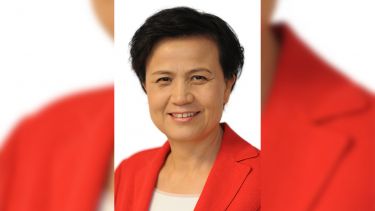 Xu Lin
Hon LittD 2014
Madam Xu is the Director General of Haban – the Office of Chinese Language Council International – and Chief Executive of the Confucius Institute Headquarters. She has successfully overseen the development of the concept of the Confucius Institute around the globe during the past decade. A chemistry and economics graduate, Madam Xu became a champion for promoting Chinese language and culture indirectly, following a career in the Chinese Ministry of Education. She now travels the world for three months each year as the face of the Confucius Institute, so is at the forefront of the increasing global enthusiasm to connect with China.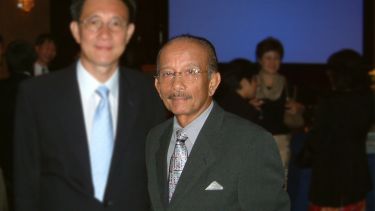 Dato Dr Ikmal Hisham Albakri
Dip Architecture 1956, Hon LittD 1992
The prominent architect Dato Dr Albakri was the first Malaysian to complete the Diploma in Architecture course at the University in 1956, before returning home to lead a new era of architecture in Malaysia. Dato Dr Albakri worked on several significant projects within the country, including designing the National Mosque and the National Library. He later went on to found Kumpulan Akitek, one of the most successful architecture firms in Malaysia, and also became the first president of the Malaysian Architects Association.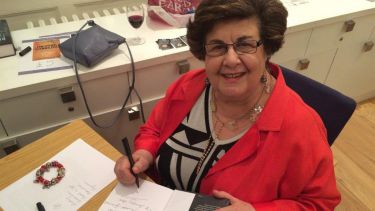 Agnes Grunwald-Spier MBE, JP, MA
MA Holocaust Studies 1998, Hon LittD 2018
Born in Budapest in July 1944, Agnes Grunwald-Spier was sent to the city's ghetto with her mother. They were liberated in January 1945 and the family came to England in 1947. A former civil servant, she graduated with an MA in Holocaust Studies from the University of Sheffield in 1998. Her research informs her writing; her books include The Other Schindlers and Women's Experiences in the Holocaust. She received an MBE in 2016 for being a Trustee of the Holocaust Memorial Day Trust and services to the Jewish Community and Holocaust Awareness.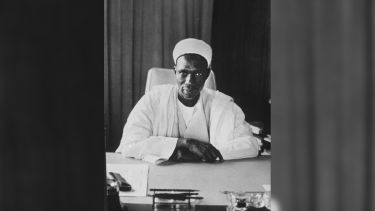 Alhaji Sir Abubakar Tafaa Balewa
Hon LittD 1960
Sir Abubakar was a Nigerian politician who went on to become the first and only Prime Minister of an independent Nigeria. After serving as Minister of Works and Minister of Transport he was appointed Chief Minister before Nigeria gained its independence in 1960. At this point he was elected to Prime Minister, a position he was re-elected to in 1964. Sir Abubakar was overthrown and killed during a military coup in 1966, but today he is recognised as having played important roles in the continent's formative indigenous rule, and features on the 5 Naira Note.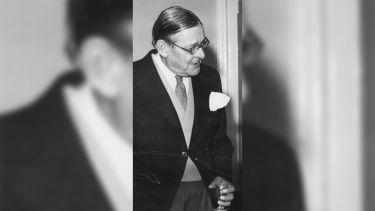 T.S. Eliot
Hon LittD 1959
The renowned writer, essayist, and critic Thomas Stearns Eliot (better known as T.S. Eliot) was born in the United States but moved to England and was naturalised as a British citizen during the mid-1920s. He was awarded the Nobel Prize for Literature in 1948, and is the author of works including 'The Love Song of J. Alfred Prufrock', 'The Waste Land' and 'Four Quartets'. In 1959 he was awarded an honorary degree from the University in recognition of his outstanding contribution to literature, and formally opened the Western Bank Library.
Jacqueline du Pré
Hon DMus 1980
Jacqueline was a classical cellist, widely regarded as one of the most talented of the second half of the twentieth century. She made her professional debut at the age of 16, having first started playing when she was 4. She performed with orchestras around the world including the London Philharmonic, the BBC Symphony, and the New York Philharmonic. Her most noted work was her iconic recording of Elgar's Cello Concerto in E minor. Her career was tragically cut short by her diagnosis with multiple sclerosis in 1971, which eventually led to her death in 1987.
Dame Edith Sitwell
Hon LittD 1951
Dame Edith was a famed poet and critic, noted for her dramatic style and exotic outfits. Born in Scarborough, she was the eldest sibling to make up the three literary Sitwells. After a challenging early life she moved to London, and later Paris, before returning to the family home of Renishaw Hall. There she began her poetry, writing the noted works 'Street Songs', 'The Song of the Cold', and 'Still Falls the Rain' which was later set to music by Benjamin Britten. Later in life she went on poetry tours, giving memorable performances, as well as writing several books on Queen Elizabeth I.