Born 1922, died 2021. A graduate of the School of Architecture.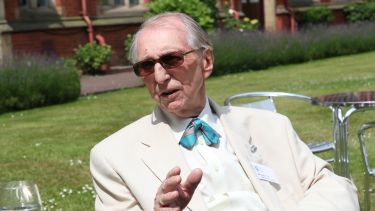 Off
Austin Cole (Certificate in Architecture 1948, Diploma in Architecture 1950), had a deep attachment to the University, his Alma Mater, and regarded it as part of his family. So much so that he asked Miles Stevenson, who led the University's alumni department for 18 years, if he would write a eulogy for his funeral. We invite you to read Miles' tribute below.
---
"At a time of unprecedented national crisis, we have come together to mourn the death of our dear friend Austin Cole – but also to give thanks and gratitude for his life, and the countless ways it has touched our lives, and the lives of others.
Austin Cole was a truly remarkable man who was much admired and loved. All of us who knew him will have a very vivid memory of Austin which we will cherish. For me, the word which epitomised Austin was "energy". I met him when he was in his early eighties but his zest for life, his activity and sheer presence were evident to all of us. Here was a man who got up every morning to enjoy life, to seize the opportunity to be alive. He once said that people should not complain about the weather as you could not do anything about it. You should just get on and enjoy the day. Life was for living.
Austin Oliver Cole was born in 1922 of a family long established in the village of Willingham in Cambridgeshire, just south of the River Great Ouse. His father was a market gardener and Austin attended Willingham Council School for ten years from 1926. He then studied at Cambridgeshire Technical College from 1936 until 1940, when he was recruited as a young 18-year-old to the Naval Intelligence Division of the Admiralty. He rarely spoke of his service during wartime – no doubt still upholding the vital secrecy of this department's work. But he remembered many fascinating colleagues – people who had served in the Antarctic with Sir Ernest Shackleton and Captain Scott, and a linguist who was proficient in 52 languages! The work of Naval Intelligence, especially in breaking codes and cyphers, and decrypting Enigma messages, was vital in winning the war.  Throughout his life Austin continued to be invited to Naval Intelligence meetings, eventually holding the distinction of being the only person present who had served during the Second World War.
In 1946, he was admitted to the University of Sheffield's School of Architecture moving immediately into the second year. He loved his time at Sheffield living for the majority of this period in Crewe Hall, a hall of residence for gentlemen where the undergraduates still wore black academic gowns and dined formally. He worked incredibly hard on his studies. In those days, if you failed your annual examinations, you were out!  In the university vacations he even set up his own mini architectural practice at home to help fund his studies. He was already demonstrating his aptitude for hard work and organisation. All of this paid off and he was awarded a Certificate in Architecture in June 1948 and then a Diploma in July 1950.
He once said that his longest love affair was with his University … other than, of course, with his wife. For he met Mair Elizabeth Lewis whilst at Sheffield. Mair was studying Medicine matriculating in 1944 and graduating as a doctor in 1950. The friendships they both forged then lasted a lifetime with regular alumni reunions. However, Austin did not marry Mair until 1971 after he had moved to London.  Sadly she died in 2001. Mair's family was from Aberaeron in Wales and they treasured their summers in Wales where he restored and renovated their house.
After University, Austin became a Chartered Architect and a Property and Planning Consultant establishing his own successful practice in Cambridge. He was an Associate of the Royal Institute of British Architects (A.R.I.B.A.) and a Fellow of the Architecture and Surveying Institute (F.F.A.S.). He became the Chairman of the Cambridgeshire and Isle of Ely Advisory Panel of Architects to the Council, and a member of both the advisory panels to the City of Cambridge and the Historic Buildings of the County of Cambridge. He even found time to become a Trustee and Honorary Secretary of his old school.
Work was very important to Austin and he took great pride in all the architectural projects he worked on from petrol stations to hospitals. In the mid 1960s, he moved to London and was employed by central government being based in the Greater London Authority buildings opposite Parliament. He was involved in a huge range of developments from underpasses for the Thames, to bridges and new road layouts. One of his favourite projects was when he moved the Shaftesbury Memorial Fountain, popularly known as 'Eros', to its new location on Piccadilly in 1985. All these completed projects are tangible professional legacies.
Austin was always very much a people person. I got to know him better over a period of 17 years and I came to see many different facets in Austin's character which I would like to share. He was always positive about life; he loved conversations; meeting people – especially young people, students and those working in the performing arts. He typified the qualities of an English gentleman: courtesy; kindness and consideration for others; being thoughtful and very generous.  He made large donations to many charitable causes, never seeking publicity and doing this quietly and privately. Donating to fund scholarships in Higher Education was particularly important to him. He had struggled financially as a student and knew that gaining access to education was one of the greatest gifts you could give to a person to release their inherent talents.
He loved to be a bit of a dandy with his three-piece tweed suits, a cane, perhaps a bow tie or a beret, and sometimes a pipe. He was eternally curious enjoying lectures, current affairs and keeping himself up-to-date on politics, economics and the stock market. Mental activity was what kept him young.
Yes, he loved tradition. He was proud to be a member of two famous London clubs: the Naval and Military in St James and the National Liberal Club where he was, I believe, its longest serving member. He loved taking people to see "Trooping the Colour" and to elegant lunches or teas at his clubs. But his real passion was for the theatre and for musicals. Taking friends to see the latest show followed by a special meal, and producing, as if by magic, bags of jelly babies for the interval, was something he loved to do. Sharing his good fortune with others including, as he put it "the girls and boys of the alumni office" was a trademark of Austin's.
At our University events at the Royal Society or the House of Commons, Austin would always be there, often accompanied on his arm by a beautiful young dancer or singer from a West End show. Austin had an ability to get on with everyone. I walked with him once from the National Liberal Club to the Embankment Tube station. He knew everyone. From the flower seller, to the man handing out newspapers, to the staff at the station. They all greeted him as an old friend.
Austin loved telling stories – often long ones – and always had a ready joke or funny story up his sleeve. He had the most distinctive handwriting. Always an ink pen and often with neatly ruled pencil lines on the page – something no doubt instilled in him as a child. He loved labels securely attached to packages to ensure they never went missing. 'Check, check and check again' could have been his motto. This precision and attention to detail was deeply embedded in Austin. He was incredibly shrewd and perceptive about people. Yes, he loved to entertain and to put on a performance for an audience but his depth of analysis and his keen intellectual capabilities were second to none.
Austin once wrote to me about retirement saying "It isn't. It's a false name". And he remained fervently active in his long retirement: writing two books – "Everything Stops for Tea" and "Top Hat, White Tie and Clodhoppers"; regularly coming to Sheffield for alumni reunions; travelling around the UK - especially to his beloved Cromer - and attending countless events in London. Despite his increasing age and infirmity, he refused to give up – travelling on the underground in his nineties.  His generation had huge resilience and determination. His was a life lived to the full.
It would be remiss of me not to mention four people who were so important to Austin. His wife Mair. His housekeeper Mrs Peverley who became their good friend. Bethan Williams whom they both loved and were so proud of. And his wonderful neighbour Jane Wardle.
Only once did I see him at a loss for words – stumbling over them and looking very nervous. And that was when he asked me if I would be able to do him the honour of writing a eulogy for his funeral. I looked him in the eye, immediately said "yes", and he smiled.
Austin, old friend, we mourn your passing. We treasure our memories of you. We are all the happier for having known you. Now we wish you eternal peace united at last with your beloved wife, Mair.
Austin, may you rest in peace."
---
The University is very grateful to Miles for sharing this eulogy and would also like to thank Austin for the memories.