The story of Brian Mayes – love, laughter and legacy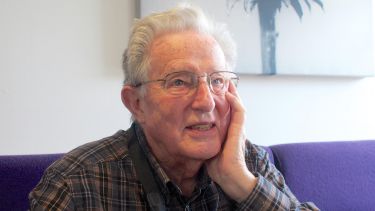 Brian was always able to see the positives in the most difficult situations.  Born in Belfast, he touched many lives with his humour and was an inspiration on how to live a happy life. His service to the University will never be forgotten and through his generous legacy gift, he will continue to impact the lives of others for many years to come.
In his Will, Brian left a gift of £5,000 to the University, and through a discussion with his family, it was decided to allocate this towards the Desert Garden appeal. Brian was a strong supporter of humanitarian causes throughout his life, making this cause a perfect fit.
Alongside this passion for helping others, throughout his life Brian developed a love for poetry and singing – his great loves were words and music.
This passion made a great impact during the mid-1960s when together with his wife Ellen they were instrumental in the creation and running of the Ulster College of Music, an independent music school for young children and teenagers.
Brian and Ellen also instilled this love into their family, with all three of their sons taking up careers in music and the arts.
In 1975, Brian and Ellen moved to Sheffield, and Brian took up the role of Estates & Buildings Officer at the University.
Together with the then registrar John Padley, he worked hard to improve the public image of the University. Brian played a key role in the renovation of Firth Court, the recladding of the Hicks Building, and landscaping works across the University.
However, his largest achievement was the construction of the Octagon Centre. This initially faced strong objections (not least because of the difficult financial situation at the time), but he pushed on nonetheless, seeing the potential of the space both for the University and the city.
Brian was proved right, when the turnover from hosting events and conferences in the Octagon resulting in it paying for itself within the first few years.
He retired in 1985, and took with him fond memories of Sheffield, not only of the staff and students but also their neighbours and the people he encountered on the buses or in the shops.
Brian later moved to Edinburgh, but retained a very close link to Sheffield up to his death in 2019. Brian would often bring his family back to visit the city he loved – these visits were always treasured by the whole of the Mayes family.
We are extremely grateful to Brian for his legacy gift and for his many years of dedicated service to the University. He would be so proud to see his legacy assisting the University in improving lives for the better.
If you would like further information about leaving a gift to the University in your Will, please contact the University's Legacies Officer, David Meadows, by phone on 0114 222 1073 or by email at d.meadows@sheffield.ac.uk.