Chris Wright - Former Member of Staff
Chris loved Sheffield, engineering and playing Elvis, Bob Dylan and The Stones on the guitar.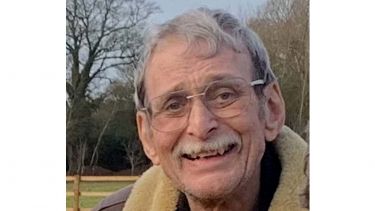 Off
From an early age, Chris enjoyed everything Sheffield had to offer. Soon after getting married, his parents decided to move to Sheffield to start their life as young parents.
As a boy, Chris's one ambition was to become an RAF pilot. Unfortunately, his eyesight let him down. However, nothing could stop him from reading all the Biggles books by W.E.Johns, which he lovingly collected and eventually, passed on to his nephew. Chris also loved playing the guitar, in particular, Elvis, Bob Dylan and The Stones. Later in life, he became interested in steam trains and journeyed far to see them.
Inspired by his father, Chris was passionate about engineering. In 1962, he joined the Department of Physics at Sheffield University as a Junior Technician. After two promotions, in 1978, he became a Senior Technician in the Department of Chemical and Biological Engineering, finally, becoming the Chief Technician in the latter department in 1998. Chris was named on several patents during his time in CBE and was the real part of the creative thinking to work around tight to non-existent budgets to consistently make ideas into reality as he assisted many a PGR through their PhD. He retired in 2007, a very sad day for him as he loved his work, especially, practical, hands-on engineering. For those that knew Chris, he is remembered fondly by all he worked with for his great flair, seemingly endless technical know-how, dry wit and imagination.
---
I have never known such a talented engineer, solving problems and finding engineering solutions on lathe and milling machines alike. His knowledge of astronomy, aircraft and history of world wars was unbelievable, his memory never failing him."

Allan Alcott

Chris's brother-in-law
---
During his 45 years with the University of Sheffield, Chris enjoyed the company of colleagues and friends alongside a pint. 
After retirement, he threw himself into more complicated and precise engineering, namely horology – clock making. He applied to the council and had a workshop constructed in his garden, complete with a refurbished Myford lathe and Clarke multi-drilling/milling machine. It was here that he spent so many hours after his retirement. Approximately, he built 5 timepieces with amazing artistry. In between this, he set himself the task of building a scaled, steam roller which proved to be a real challenge. The plans were faulty and he had to redesign several parts of the boiler and steam transfer mechanism. Unfortunately, he couldn't finish the project but he would have loved to see his great-nieces and great-nephews riding around on the machine.
Chris sadly passed away at the beginning of 2023 after battling pneumonia and emphysema. He spend his last Christmas surrounded by family and he will now return to Evancoyd to rest with his parents.
Thank you Chris for all the pleasure you gave to your family, friends and colleagues.