Born 1948, died 2012. A graduate of the Department of Economics (MA Economics 1976).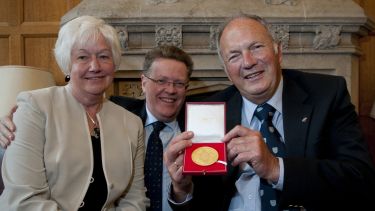 Dave Wickett, alumnus of the University of Sheffield and champion of real ale, passed away from cancer on 16 May 2012 aged 64.
Wickett was born in Potters Bar, Hertfordshire, but spent most of his life in Sheffield. He graduated from the University in 1976 and became a lecturer in economics at the city's polytechnic (now Sheffield Hallam University). An early member of the Campaign for Real Ale (Camra), he served on its industry and economics committee, which produced detailed reports on the anti-competitive activities of national brewers.
While still a lecturer, he bought a pub in Sheffield, the Alma, which he reopened as the Fat Cat. He opened the pub in 1981: the first pub in Sheffield to promote a smoking free environment for Real Ale and home made food. The enduring success of the Fat Cat led Dave to open the Kelham Island brewery, Sheffield's first new brewery in over 100 years, the success of which propelled Dave into the forefront of the Microbrewing culture in the UK.
In January 2010 Wickett was diagnosed with bone cancer. He threw himself into a whirlwind of activity, opening a new brewery at Welbeck Abbey in Nottinghamshire. He also helped develop a department of molecular biology and biotechnology at Sheffield University to run postgraduate courses in brewing.
In 2011 he was awarded the Professor Robert Boucher Distinguished Alumni award by the University and in the same year was given a lifetime achievement award by the Commons all-party parliamentary beer group.
In his spare time, Wickett was a committed supporter of Sheffield United FC. He contributed to match programmes and continued to attend games in his wheelchair until he became too ill.
He is survived by his wife, Helen, and son, Edward.
Miles Stevenson, Director of Development said in the Sheffield Telegraph:
"Dave Wickett was regarded with huge admiration and affection by everyone who knew him. He was a true entrepreneur with boundless energy, courtesy and optimism. We are immensely proud that he was one of our alumni. I think he must have been the most positive person I ever met and spending time in his company could never fail to uplift you. The way he faced his final illness with a spirit of optimism was an inspiration. All of us salute him tremendous achievements and mourn his passing."