Dr Gordon W Bridge OBE - obituary
Born in 1944. Died in 2022.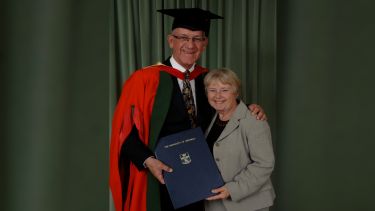 It is with great sadness that we inform you that Dr Gordon Wilson Bridge passed away on Thursday 26 May. 
As someone who was passionate about education, Dr Bridge gave his time serving on the University's Council and was the chair of the Careers Service Advisory Board. He was also a member of the Material Sciences Industrial Liaison Committee.
Born in Wadsley Bridge and educated at King Edward VII School here in Sheffield, Dr Bridge went on to become a distinguished industrialist with a background in accounting, who helped enhance the reputation of the South Yorkshire region through jobs and innovation in manufacturing, and transform several local businesses into major international enterprises. 
One of these was Richardson Sheffield Ltd, founded in 1839. Under his leadership, where he progressed to the position of chairman and managing director after joining the company in 1984, Richardson Sheffield launched the world-renowned Laser knife that was engineered to remain sharp for life, as well as receiving R&D support from our University. It then became Europe's largest producer of kitchen knives, creating a boost of wealth and jobs for Sheffield. 
In 1995, Dr Bridge stepped in as the chief executive at AES Engineering Ltd, a Rotherham-based subsidiary of a US company in the manufacture of mechanical seals. During his time and with the help of his strategic expertise, the company turned into a world-leading multinational organisation, with seven Queen's Awards to its name.
Dr Bridge served as a board member in various organisations, including the committees of the Confederation of British Industry and of the British Cutlery and Silverware Association. Contributing to education and training, he was a board member of the Sheffield Training and Enterprise Council, Common Purpose, the Graves Charitable Trust, and the Herbert Hughes Trust, and also held the position of a chairman of Governors of Ashdell School Trust and of both the Sheffield Academies.
In 2007, he was elected as Master Cutler of the Company of Cutlers in Hallamshire, where he was a devoted ambassador for the region's manufacturing industries, championing a major fundraising initiative for local hospices together with his wife Janet as Mistress Cutler.
In July 2009, as an acknowledgement of his historical achievements, Dr Bridge was awarded an Honorary Degree by our University. And in 2020, an Order of the British Empire was bestowed upon him for his services to the South Yorkshire community.
Dr Bridge will forever be remembered with gratitude and fondness by many colleagues as an esteemed local businessman who was dedicated to the University and contributed greatly to its activities through the years.