Dr Eric Morris Bateson obituary
Born in Darwen, the county of Lancaster, UK, 31st December 1939. Passed away in Brisbane, Queensland, Australia 24th November 2011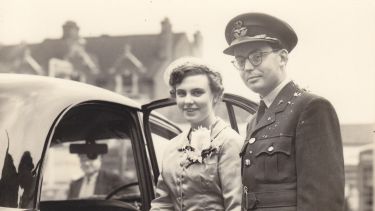 The University of Sheffield wishes to thank Eric's widow, Mrs Winifred Bateson (BA, 1953 and Dip Ed, 1955) and daughter, Mrs Helen Lack for establishing the Dr Eric Bateson Bursary in Medicine. Mrs Lack has also kindly supplied the University with the following words about Eric's life. This endowed bursary will ensure that medical students will be given a helping hand for many years to come.
MB ChB Sheffield 1953
DMRD London 1959
FFR London 1961
MD Sheffield 1963
FRANZCR 1970
Dr E.M. Bateson was an incredibly unique individual who forged an amazing life despite many financial hardships experienced by those who lived through the Great Depression and WWII. Eric's achievements started from an early age where he was the first student from the local primary school to win a scholarship to Baines Grammar School, Poulton-Le-Fylde. He was then the first student from the school to be awarded a State Scholarship to Sheffield University to study Medicine and then the first Medical postgraduate student at Sheffield University to be awarded a Doctorate in Medicine through completion of his MD by Thesis.
Finances were always very tight throughout his educational endeavours. Without the assistance of the various scholarships throughout his school years and into his medical training Dr Bateson would have not been able to pursue his career in medicine. Despite this assistance, Eric's scholarship funding did not cover his full university medical training, which meant he needed to work additional hospital practical training shifts in order to have a bed and a hot meal for the day.
Once he had completed his medical training Dr Bateson, as part of his National Service duties, enlisted in the Royal Air Force as station medical officer at RAF Hucknall outside Nottingham from 1954-56 with the rank of flight lieutenant. It was during his RAF service he married his sweetheart, Winifred Welch who was undertaking her BA in Arts and Education at the time.
After leaving the RAF, Dr Bateson decided to specialise in Medical Radiology which required undertaking an unpaid traineeship at registrar level through Sheffield Hospital studying for his DMRD. In order to finance his DMRD traineeship, Eric working in many different medical roles which included working as a dental anaesthetist, at the mobile blood transfusion service and as a GP at several practices. During this period he became a father for the first time in 1956. After this he then worked as a senior registrar in the Sheffield and Nottingham Hospitals whilst he studied for his qualification as a Specialist Radiologist (FFR) which he completed in 1961. At the same time he researched material for his MD by Thesis, being the first to be awarded a postgraduate Doctorate in Medicine at Sheffield University in 1963. It was through the encouragement and influence of Dr Sir Thomas Lodge that Dr Bateson undertook his MD studies as well as becoming a father for the second time in 1962.
Desiring more challenges in his life, Eric with his lovely wife Winifred and his two children left the UK permanently in 1964 to take up an appointment as Consultant Radiologist and Associate Dean in the Faculty of Medicine at the University Hospital of the West Indies in the distant and then very uncharted shores of Jamaica. This interesting position with the plethora of little studied tropical diseases led to Eric's passion for teaching and research which continued for the remainder of his working life. As you can imagine working in a developing country with minimal facilities necessitated much ingenuity in treatment.
Due to very unstable political times that developed in the West Indies in the late 60's, Dr Bateson and his family moved to Perth, Western Australia working as a Consultant Radiologist in both Hospital and private practices. However keen to further pursue his interest in Tropical Medicine, Dr Bateson then moved with his family to take up a position of Senior Specialist Radiologist in Charge at the Darwin Hospital in the Northern Territory (NT), Australia in 1973. Conditions in Darwin were rather primitive at that time, being in charge of the only X-ray facility with only one X-ray unit for the greater Darwin area with a population of around 40,000. Dr Bateson went onto develop a full comprehensive radiological service to the NT including services to surrounding areas such as Gove and Katherine.
This involved developing and providing a complete range of specialised procedures as well as weekly clinical radiological meetings and lectures to Medical, Nursing and Radiography staff.
Progress was interrupted for a time as he faced another great challenge that of cyclone Tracy on Christmas day 1974. The cyclone devastated most of Darwin including the hospital with only one hospital ward left relatively intact. Whilst his two children and visiting grandparents from the UK were evacuated in RAAF Hercules aeroplanes to stay with friends in Perth. Dr Bateson and his wife remained to assist with rebuilding the devastated hospital services whilst living under extremely difficult circumstances in their damaged home with no roof, power, running water or easy means of communication with his children for over 6 months after the cyclone. It was almost 12 months before the army allowed his children to return to Darwin some sort of normal family life.
Following the gradual recovery from the devastation, Dr Bateson continued to further develop medical and radiological services to the NT. This included development and establishment of the first school of radiography in the NT in conjunction with the Royal Melbourne Institute of Technology (RMIT) in 1976. His youngest daughter who was a cadet radiographer at the time was a model for Dr Bateson's handbook on radiography.
Dr Bateson also instigated the formation of the NT branch of the Australian Medical Association (AMA). In 1980 this was followed up by the planning and operation of the new twelve room radiological department which included CT and MRI in the new Casuarina Hospital (later renamed the Royal Darwin Hospital) built 14km away in Casuarina to accommodate the ever increasing population. Dr Bateson's contributions to radiologic services to the NT have been documented in the book Australian Radiology – A History. As well as being the recipient of a plaque presented by the NT premier commemorating his services to the NT and being inducted into the hospital hall of fame for a dedication of medical services to the NT.
During his time in the NT, Dr Bateson continued with his research, concentrating on the Medical problems specific to the indigenous community.
Dr Bateson had over 100 publications in medical journals such as the British Journal of Radiology and Australasian Radiology, with some recently republished in electronic form in Wiley online library, Science Direct and Linkinghub.elsevier. Research during this period was a very slow and laborious process as computers and the internet had not come into existence.
In the mid 1980's looking for a more amenable climatic change Dr Bateson accepted a position in 1985 as Visiting Radiologist to the Maryborough Base Hospital in Queensland, Australia which also included providing services to Hervey Bay and Gympie hospitals. Throughout his busy life Dr Bateson found some time for relaxation though his love of classical and indigenous music, collecting covers of the British West Indies, nature, gardening and swimming in the sea.
Dr Bateson continuing to provide his services to Queensland Health into 1980s' where after many illnesses he recently passed away after a traumatic battle with Pancreatic Cancer. Dr Eric Bateson's contribution is aptly summarised by the comments of Dr Trevor Apsimon (past president of the RANZCR) and Dr Harry Hillier from Alice Springs in 1978:
There are a limited number of radiologists who enjoy world-wide reputations because of their published work. Amongst these there are even fewer whose published work spans wide fields of observation and does not mainly exploit a particular interest... this is Eric Bateson's contribution to radiology."

Dr Trevor Apsimon (past president of the RANZCR) and Dr Harry Hillier