With your support, more students from a range of backgrounds will be able to achieve their potential at Sheffield.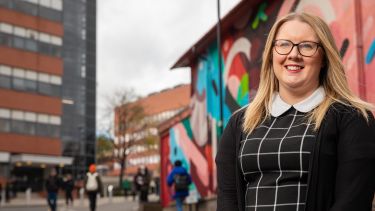 ---
Changing lives
Receiving a scholarship can change the course of a student's life forever. They may come from lower-income or disadvantaged families, be the first in their family to go to university or have no family support at all.
Perhaps they attended a school where students consistently underperform, are registered disabled or have caring responsibilities. 
These students have the most to gain from university life. They also have the most to worry about financially if they get here. With your help, we can change that.
---
What your gift will support
Tuition fees, textbooks, equipment, field trips, printing costs, rent, food, utility bills, activities, bus fares - they all add up. And the increasing cost of going to university can be a real barrier for those from lower-income or disadvantaged backgrounds. By donating to support scholarships, you can help to change that. 
£10 a month could enable a scholarship student to participate in a club or society.
£50 a month could pay for a student to attend a field trip that they'd otherwise miss out on.
£250 could cover the cost of text books and equipment.
£1,200 could fund an undergraduate Experience Sheffield scholarship for a year.
£5,000 could fund a Sheffield Postgraduate scholarship, match-funded by the University.
£10,800 could pay for three undergraduate students to receive full Experience Sheffield scholarships.
---
As the first in my family to go to university I wasn't sure what it would be like or what challenges I'd face when I got there. The scholarship allowed me to take my place at Sheffield with more confidence that I'd be able to complete the degree.

Akinmi Akingbade

BEng Aerospace Engineering student
---
Supporting more students in need
Scholarships are awarded to those most in need. But every year, demand outstrips supply. Students who would benefit from financial support aren't getting the help they need.
Thanks to generous donations, more than 1,000 students have received undergraduate and Master's scholarships over the past five years, transforming their university experience and their lives. 
We need your help in order to be able to give more students the help they need to excel here at Sheffield.
---
The financial support I received helped me overcome the barriers I've encountered throughout my life and enabled me to succeed. For that I feel both grateful and hugely privileged.

Sarah Arkle

BA English Literature 2013, MA Librarianship 2017
---
A helping hand
Experience Sheffield scholarship
Undergraduate students receive £3,600, paid in instalments over three years.
Sheffield Postgraduate scholarship
Master's students receive £10,000, paid in instalments throughout their year-long course. The University contributes 50% towards each scholarship – so all gifts are £5,000 match-funded.
---