Born 1980, died 2014. A graduate of the School of Architecture (BA Architecture 2002).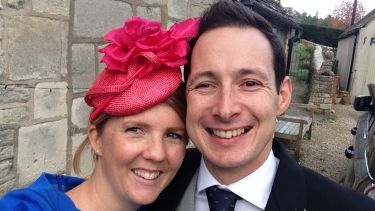 Iain Twigg was born on 26 December 1980 and studied architecture at Sheffield University from 1999-2002. He died of a brain tumour on 7th December 2014, aged 33. He leaves his wife Caroline, parents, brother and sister, and many friends from around the world following his international career in the Foreign and Commonwealth Office.
Iain was born in Sheffield and grew up there and in Loughborough, and came to Sheffield University in 1999. His university days included joining the canoe club, playing football, Sunday lunches with his housemates, architecture field trips, including to a flooded Venice in November in the rain, and a degree at the end. Later in his life he studied part-time for an MBA while continuing his job, and gained a Merit from the Open University on that.
From university, Iain worked briefly for HSBC in Leicester then moved to London to take up a position in the Foreign and Common Wealth Office. This global email announcing to all FCO colleagues posted around the world that Iain had died outlines his career and professional life as a diplomat in more detail. It included postings abroad in Moldova, Geneva and Delhi, and stints in UN negotiations on international nuclear weapons treaties in New York.
Iain loved his job and the balance of work, travel, adventure, and exploration of new places, politics and people. His positivity and enthusiastic zest for life touched many around the world. He was welcoming and respectful to everyone he met abroad and in the UK, and many people recall the first time they met him because of his infectious and all-encompassing grin. He loved the outdoors and spent many hours playing tennis, cycling, skiing, hiking, camping, jogging and canoeing. Iain married his childhood sweetheart, Caroline, in 2008 and will be hugely missed by her and his close family and friend, as well as the wider international diplomatic community they met while living abroad.
Iain's friends and Caroline put together a tribute website for Iain where you can see more about his short but adventurous life: www.itsbeenquality.wordpress.com