Dr James Muiruri obituary
Born 1979, died 2009. A graduate of the School of Law (PhD International Law 2008).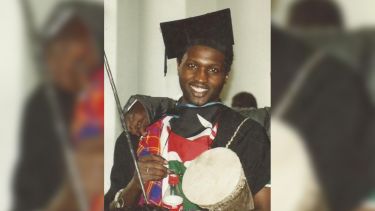 Dr James Ng'ang'a Kariuki Muiruri was born on the 3rd of October 1979 at Mater Hospital Nairobi. He began his primary education in 1985 and in 1993 he sat for his Kenya Certificate of Primary Education (KCPE)e xamination in Hospital Hill Primary School in Park lands Nairobi, and passed.
He was then admitted to Form One in Mang'u High School in 1994 where he sat his Kenya Certificate of Secondary Education (KCSE) Examination and passed. During his time at Mang'u, James was a highly gifted basketball player and has toured many countries participating in sports tournaments.
James then briefly proceeded to the Kenya School of Professional Studies (KSPS) in 1999 to pursue a Diploma in Law and, due to his exemplary performance, he was accepted into the University of Kent at Canterbury in the United Kingdom to pursue an undergraduate Degree in Law (LLB).
He joined the University of Kent in 2002 and described his first few weeks in Canterbury as being a complete culture shock; but in true 'Ng'ethu Star' spirit, he settle down into the English way of life and adapted and adjusted in no time. Within a few weeks, James had made many friends of all races and nationality. Lecturers and colleagues alike noticed and remarked on how insightful, intelligent and focused he was in his studies.
James sat on the East Africa Society Advisory Board where he was very influential in drafting policy and nascent organization. It was also at Kent that James achieved his very first legal victory by representing a disabled man at the benefits tribunal in Kent County in 2004. This marked the first time that James challenged the system and defeated it. He graduated from the University of Kent on 14 July 2004 with an Upper Second Class Honours in Bachelor of Laws.
Later that year he was accepted to the prestigious Law School at Queen Mary's at the University of London. It was there that he was one of only two people that academic year, and the only ever black African, to be awarded a Master Degree with a Distinction in the area of International Public Law. He was also awarded the very prestigious Drapers Company Prize of academic Excellence.
As James walked up to the dais to receive his Degree, he held a Maasai spear, a Maasai shield, and was adorned in full Maasai regalia in memory of his great grandmother. He topped it off with a Kenyan Flag draped across his shoulders and as he danced at the podium, he received a standing ovation. He stole the show with many students and parents who insisted on having photographs taken with him. Due to James' excellent performance in his Masters Degree, The British Government decided to award him with a full scholarship for three years to pursue a Doctorate Degree at the University of Sheffield where he was to also tutor undergraduate International Law Students.
James' students described him as being inspirational, compassionate, humble and larger than life. You could often find him at the University Students' Union or at the University Arms pub socializing with lectures and students alike - discussing philosophy, politics, theology and life's many mysteries. It was due to his popularity, open mindedness, caring and giving nature that he was voted as the 'Best Tutor'.
James' years in Sheffield were marked by true academic excellence and personal growth. He was the fastest student in the history of Sheffield University Law School to complete his PhD submitting his Thesis in just under three years. Reflecting on his time in the United Kingdom, James described himself as having come full circle and called the city on seven hills as his second home.
The Sheffield Centre for International and European Law named their Annual Lecture in honour of James Muiruri a PhD student in the Centre.
James Muiruri was tragically killed in Kenya in January 2009 only a couple of months after successfully defending his thesis. James' thesis was entitled: " African Regional Peace and Security Under the AU's Constitutional Framework: Conflict or Compatibility Within the UN and International Law. James' doctoral Supervisor released this statement at the time of James' death:
I had the great pleasure of being James Muiruri's supervisor during his doctoral studies in the School of Law at the University of Sheffield from 2005. He was an exceptional student who worked hard on his thesis which explored the developing system of African regional security. He was truly inspirational when explaining his research, whether to colleagues and friends or at international conferences. He was due to graduate with a Ph.D this summer after having recently successfully defended his thesis. He also taught in the Law School, and was frequently described by his undergraduate students as a brilliant tutor. He was active in student life, having been the founding President of the East Africa Society, which reflected his love and passion for Africa and which earned him a number of Student Union awards. He also found the time to commit to many other worthwhile ventures such as the Black Students' Committee, being a resident tutor and mentor to two halls of residence as well as to the young Kenyan community within the University, and legal advisor and supporter of Rachel's Development Programme (his mother's orphanage programme in Kenya). I find it hard to accept that someone who had so much optimism and so much to give has been taken away in such tragic circumstances. As an 18 year old he survived the embassy bombings in Nairobi in 1998 and he was also injured in the recent period of unrest in Kenya. He believed in a just legal order and it's appalling that his life was taken away so arbitrarily by an officer of the law"

Professor Nigel White

James' doctoral Supervisor, The University of Sheffield School of Law
James was a very loving and obedient son to his parents. He was also very kind, friendly and considerate to his family members, peer group and was a legal advisor and one of the sponsor of Rachel's Development Programme (his mother's orphanage programme in Kenya.
He used his free time when visiting, to mentor students in Kenyan schools and the vulnerable kids in the community. In his memory, his foundation still operates up to date under the care and support of his mother: The Dr James Muiruri Foundation
James Favourite quote
"Today I ask myself, 'What if I was to lose the world? What if the world was to lose me? Would I remember the world? Or would the world remember me? I know that to be remembered I have to stand for something. I want to live and die for a principle. I know that I have not reached my zenith yet as it is why everyday that I lie on my bed, I HOPE THAT TOMORROW COMES."
Our gratitude to all the Universities, lectures and to those who touched James life.
Obituary submitted by James' parents - Contact:info@drjamesmuirurifoundation.org