Dr Margaret Staniforth obituary
Born 1939, died 2019. A graduate of the School of Medicine.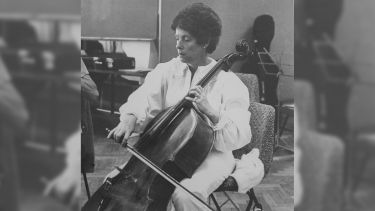 A friend and graduate of the University who will be very greatly missed by all who knew her.
The year 1939 is well known as being significant for one particular reason, but it was also the year that Margaret Staniforth (née Hardman) was born. Born in Manchester where her father was working as a Neurosurgeon at the time, Margaret and her family moved to Sheffield shortly after her birth where her father's skills could be put to good use during the war.
Tragically losing her mother at just five years old, Margaret's paternal grandparents helped to raise her. Initially educated in Scotland, Margaret completed her formative years at Cheltenham Ladies College, an institution of which she was very proud and to whom she was very grateful. Her excellent education in Cheltenham would pave the way for her future successful career and creative endeavours.
Margaret studied medicine at King's College London and, in her father's opinion, enjoyed the social side of studying a little too much. She was therefore brought to Sheffield where she finished her training at the University's Medical Department, qualifying as a doctor (LRCP MRSC 1964) aged 24. She commenced her medical career at Sheffield Royal Hospital where the social side of her personality remained. She would regale friends and contemporaries - including her future husband Kim - with stories of the labs.
Margaret and Kim married in 1964 and went on to have 4 children and 9 grandchildren. Her career took on many guises - family planning, GP surgeries and even a police surgeon until her retirement in 1995, passing the medical baton on to her recently qualified daughter.
It is true to say that family and friends were the centre of Margaret's world and she was renowned for the quality of her food and hosting skills. A number of these social occasions were held in the Staniforths' award-winning garden. Over the course of 20 plus years, Margaret and Kim crafted a derelict lawn tennis court into a runner up in the Great British Gardens Competition in 2018. The gardens were also used for a number of charity events, most notably for the Bluebell Wood Children's Hospice.
Such was Margaret's creative prowess, she was also an avid painter, embroiderer, and in later years following a deterioration in her sight, a knitter. Margaret also possessed a beautiful singing voice and, after learning piano at school, took to learning the cello in her thirties. She played to such a high standard that she was able to set up the Sheffield Amateur Orchestra, which celebrated its 40th anniversary, under the new name of the Endcliffe Orchestra, in 2017.
Margaret's many talents, joy for life and incredible kindness will live on through her incredibly generous legacy of £5,000 in her Will to the University. This donation was match-funded by the University to create a Postgraduate Scholarship in Music. Through this gift, Margaret is able to continue to share her love of music with the next generation of fellow musicians and scholars. 
Words cannot do justice to describe how happy I felt when I received the email saying I'd been given the scholarship. I cried, I laughed and re-read it over and over again. I will be forever grateful for this gift. I choose to think of it as a vote of confidence and every day, when I'm sitting at my desk studying, I think of how lucky I am to have this support. Thank you Margaret."

2020 Margaret Staniforth Postgraduate Scholarship recipient
---
The University would like to thank Margaret's husband Kim for providing the information and photograph for this obituary.
If you would like further information about leaving a gift to the University in your Will, please contact the University's Legacies Officer, David Meadows, by phone on 0114 222 1073 or by email at d.meadows@sheffield.ac.uk.