Born 1934, died 2018. A graduate of the Department of History.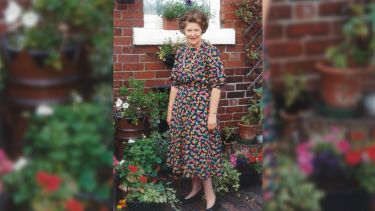 Off
When Mary Lill was offered a place at the University of Sheffield in 1954, only 2% of the country went on to study higher education, and an even smaller percentage were women. Reading history with economics, statistics and Latin, she graduated in 1957 with an honours degree in her pocket, a heart full of memories and an address book of lifelong friends - to whom she would later regularly refer as being her family.
Mary returned to live in Yorkshire upon her retirement, such was her affinity with the region. An only child with no surviving relatives, she bequeathed £10,000 to the University's Medical School, which was used to fund scholarships for students taking up Medicine as a second degree.
Immigrating to the UK from Greece during a time of financial crisis was one of the bravest and scariest decisions my family ever made. Filled with uncertainty, we set up our new lives here. The UK is filled with many opportunities, and its people are known throughout the globe to be some of the most generous. Now, this generosity has made a direct impact on us, both my identical twin brother Daniil, and I, have received the Mary Lill Scholarship to help fund our medical studies."

Adrianos and Daniil Boutsias

MBChB Graduate Entry Medicine students
Although pursuing a career in education, music was Mary's true passion. A further £85,000 gift was used to set up the Mary Lill Scholarships in Music. Throughout Mary's lifetime, she regularly attended operas and concerts, so it is truly fitting that she has been able to give the gift of education to the musicians of the future.
As the Department of Music writes: "music engages the senses and emotions like no other art form. It can persuade, celebrate and tell stories, bring together societies and change lives. Music crosses time and place, giving a fascinating glimpse into cultures and histories across the world."
And no better legacy could have been found for Mary Lill.
I find it hard to express how thankful I am for this scholarship, it's given me and my family hope.The University had my perfect course. I dream of being a performer and being able to make music and perform on stage, to inspire others to follow their dreams."

Bethany Brooks

BA Music and Korean Studies student
 The University is grateful to Gillian Murphy, a friend of Mary's, for providing us with this information.
If you would like further information about leaving a gift to the University in your Will, please contact the University's Legacies Officer, David Meadows, by phone on 0114 222 1073 or by email at d.meadows@sheffield.ac.uk.