Pamela Burnip Mann MBE obituary
Born 1930, died 2014. A graduate of the School of Architecture (BA Architecture 1954).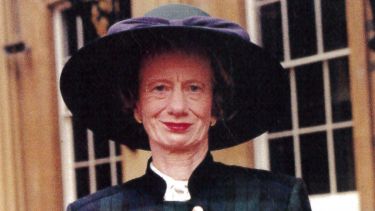 The University of Sheffield wishes to thank Pamela for the support she gave the University during her lifetime and for the legacy gift of £20,000 to help set up a new prize within the School of Architecture. We would also like to thank Dr Susan Jones (Pamela's cousin) for the information below.
---
Pamela was born in Birmingham where her father, Leonard, was chief engineer at Fort Dunlop. They moved a few years later to Burton on Trent when he became chief engineer at Bass Brewery. She went to a small boarding school near Lichfield, run by nuns, for her secondary education, and from there she applied to Sheffield University to do an honours degree in architecture. I think she applied twice, as she was a slightly older student, qualifying in 1956. At that time there were very few women students studying architecture in her year, possibly only two or three.
After graduating she worked in the private sector in Birmingham and then Nottingham. Eventually, in 1963, she moved to Cardiff joining the Welsh Hospital Board, and remained with them and their successors until her retirement in 1995. As the accompanying citation states, she was involved in many new hospital builds and redevelopments. She was particularly proud of her work at Singleton Hospital, Swansea, where I believe she had the lead role.
One of her main interests and area of expertise was the design and construction of operating theatres and the occasional mortuary. In her later years she moved sideways from design and became expert at dealing with contracts and disputes with building firms. Pamela was a perfectionist and always read the very small print.
When she was appointed MBE in 1993 she was very proud and delighted that her colleagues held her in such regard and wanted her qualities to be recognised.
Outside of her work she took an active interest in the Civic Society in Penarth, the small town outside Cardiff where she lived. She lived in a block of flats, overlooking the sea, and was on the residents and management committee overseeing all building and maintenance work. She liked travelling, mostly to see friends and relations in America, and on 3 occasions to New Zealand to stay with friends who were fellow architects from her University days.
When Pamela was in her early thirties she had two ear operations for otosclerosis. One failed completely leaving her totally deaf in one ear, and the other was only partially successful, necessitating a very strong hearing aid at all times. Nevertheless she carried on with her career and made the most of it. She became an expert on hearing aids and always embraced new advances in technology and design.
Her last years were not very happy. She had breast cancer in 2006 and although she made an excellent recovery she lost some of her confidence. Her memory started to fail, along with her eyesight a few years ago but she was determined to stay in her own home as long as possible. It was only at the end of 2013 that she was admitted to long term care.
Citation for MBE, 1993
Miss Pamela Mann qualified as an architect in 1956. As a keen, enthusiastic, industrious and capable student, she developed qualities which she has demonstrated continuously throughout her career.
She spent her early professional life in private practice before joining the former Welsh Hospital Board in 1963. For the last 30years she has dedicated her efforts to providing the highest quality of Professional Architectural service and in doing so has made an outstanding contribution to the provision of modern healthcare facilities in Wales.
She has been intimately involved in many of the major projects included in the original Hospital plan for England and Wales, which eventually resulted in the current network of modern District General Hospitals in Wales. Miss Mann played a crucial part in the design, construction and bringing into use of such projects as the Bronglais and Withybush Hospitals and the major redevelopments at Bridgend, Singleton and Royal Cwent. Those facilities now fort the backbone of the NHS in Wales.
In addition, Miss Mann has made a major contribution to the Welsh community hospital programme, which is recognised as a national leader in the provision of hospital care in the community. These designs have received Architectural awards and the accolades of patients and staff.
Miss Mann has remained highly motivated and has demonstrated professionalism and productivity, above and beyond the norm in every project undertaken. Her whole life is devoted to the advancement of Hospital Architecture for the benefit of others, a fact which is demonstrated by her application to work beyond the normal retirement age for women. She is now 63 and intends to continue as long as she is able. The NHS in Wales will benefit richly from these additional years from one of its most loyal and dedicated members of staff.
This unparalleled quality of service over such a sustained period has made a lasting contribution to the provision of healthcare facilities in Wales and deserves appropriate recognition.