In loving memory of Peter Wilton Lee
It is with profound sadness that we inform you that the former University Pro-Chancellor, Peter Wilton Lee (CBE, DL, MA Hon. DEng), sadly passed away on 29 October 2021, at the age of 86.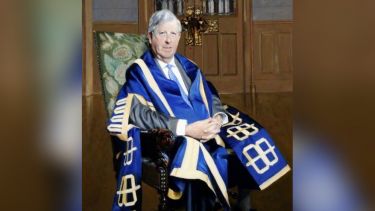 A native of Sheffield, Peter was on the University Council for 40 years, having first joined in 1966. 
He then went on to become a Pro-Chancellor in 1987 and a Chairman of Council in 1997 until his retirement in 2005. In that same year, he was also awarded the honorary degree of Doctor in Engineering by our University.
Given that he remained a member of the Council's Finance Committee until 2010, Peter's service is one of the longest on record, as he witnessed the appointment of two Chancellors and four Vice-Chancellors. 
In his commitment to serve the academic community, Peter brought knowledge and daily experience of the commercial and industrial environment to his Council duties, thanks to his family's long-standing presence in the city's steel history.
After graduating from Uppingham school and achieving a degree in Mechanical Engineering from the University of Cambridge, he then followed his ancestral steps by joining the Arthur Lee and Sons factory, which was established in 1874.
With his family member, Arthur Lee, being the one who opened the factory upon his return home from the American Civil War, the firm left a memorable mark on Sheffield's development. It supplied wire for hoops of skirts and the spokes of bicycle wheels during the cycling craze in the 1890s, and offered critical support by manufacturing steel materials in the First World War. 
Rising through the ranks, Peter became the factory's Group Managing Director in 1972 and a Chairman in 1979. As he took over the leadership role amid a worldwide recession, he made sure that the firm diversified, survived and thrived through the decades before being acquired in 1993 by Carclo Engineering. 
Peter's heavy involvement in the local steel and engineering industry wasn't the only way that he contributed to the city's social and economic landscape. 
Alongside his past role as a much respected President of the British Independent Steel Producers Association and a member of CBI National Council, he will also be remembered as a former Master Cutler of the Company of Cutlers of Hallamshire, High Sheriff of South Yorkshire and Vice Lord Lieutenant of South Yorkshire.
Peter always gave back to the Sheffield community, as seen by his involvement in the Sheffield Church Burgesses Trust, Sheffield YMCA and Sheffield Royal Society for the Blind. For this, he will always be owed a debt of gratitude and appreciation.
There will be a public service of thanksgiving at Sheffield Cathedral at 12 noon on Thursday 25 November 2021. Those who knew Peter or the family will be welcome to join this celebration of his life and to come afterwards to the Cutlers' Hall for refreshments.