Professor Geoffrey Greenwood, FREng, FRS obituary
His connection to the University of Sheffield spans over 75 years. It started when he began his undergraduate studies in Physics in the 1940s, Professor Greenwood stayed at the University for his PhD and then became a long-standing Professor of Metallurgy.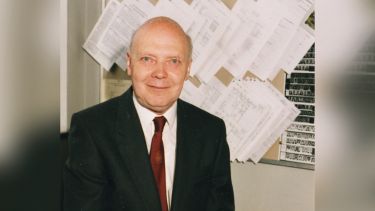 Off
Professor Geoffrey Wilson Greenwood died peacefully at home in Sheffield on 13 December 2022, at the age of 93. He is succeeded by his three children and two grandchildren.
Geoffrey was born in Low Moor, on the outskirts of Bradford. His father was a warp twister, a skilled job in a woollen mill, and his mother worked in the mill office. They lived in a two-up, two-down terraced house with no electricity and no bathroom, initially together with two grandparents and an uncle who was blind. His grandmother could not read or write.
When he was six, the landlord installed electricity. He thought it was almost magical, to get heat and light at the touch of a switch, and he was fascinated to see the wiring installed. His unshakeable belief in the power of science and technology to transform life for the better came early, together with his belief that education was a key to improving both individual lives and the whole of society.
He started to play the piano at the age of seven and found he could pick up tunes by ear. When he was eleven, he was lent an oboe by a player at his father's mill's carol service who had been enlisted for the war. Music became almost as important as physics in his life, and he took some solos with the school orchestra.
He used to say that during his education, three times he had to take what seemed to be the second-best option, and it turned out to be the best. He passed the eleven-plus but was given a place at Grange School for Boys rather than the more prestigious Bradford Grammar School. He enjoyed the education and the activities of swimming, cycling and sailing and made lifelong friendships. 
Next, he passed the entrance exam for Oxford, but could not afford to attend without a scholarship. He decided on studying Physics at the University of Sheffield. He was placed in Ranmoor Hall, which then housed only 49 students. This gave him opportunities to participate in a wide range of social, artistic, and scientific activities. He was disappointed to get a 2:1 rather than a first, which meant he could not continue with a PhD. Professor Quarrel, Head of the Metallurgy Department, offered him the opportunity of a PhD. He was initially unenthusiastic, believing that a life in which physics played only a minor role would be unacceptable, but Professor Quarrell convinced him that there would be a high physics content in research on the fracture of metals, so this was his next step.
His PhD investigated the connection between tensile strength and grain size, and ended with the award of the University Brunton medal. During this time he met his future wife, Nancy Cole, a great-granddaughter of one of the Cole Brothers who had founded Sheffield's leading department store, in the University orchestra.
In 1953 he joined the Atomic Energy Research Establishment at Harwell, where he enjoyed a mix of fundamental theory and practical application. While there he married and had three children. In 1960 he was recruited for the new Berkeley Research Laboratory of the CEGB, and in 1965 he was appointed Research Manager at the new Electricity Council Research Centre at Capenhurst, Cheshire. In the same year, the University bestowed a postgraduate honorary degree in Metallurgy. 
The laboratory formed links with the University of Sheffield, which maintained a strong interest in the microstructure of metals, and with steel-making companies that were major users of electricity. In 1966, he was offered a Chair in the Sheffield Department of Metallurgy. His main research themes were creep, the role of cavities in fracture at high temperatures, and sintering under hydrostatic pressure. He always enjoyed collaboration and visited 23 countries during his time at Sheffield. This included several visits to India and Japan, and a memorable visit to Argentina where he experienced tear gas.
He served as a Pro-Vice-Chancellor for four years, had a term as President of the Sheffield Metallurgical and Engineering Association, and served on several committees of research councils and journals with a term chairing the editorial board of the Journal of Materials Science. In 1992 he was elected a Fellow of the Royal Society.
After retirement from the University, he continued to serve on several Committees of Learned Societies and of the Research Councils, and he acted as a course adviser and as External Examiner. He enjoyed music, gardening, further travel, and time with his family. He was much loved by many friends and relatives. He leaves his three children, John, Catherine and Alan Greenwood.
The University is incredibly grateful for his dedication and many years of service and thanks the friends and family of Professor Greenwood for supplying the information in this obituary.