Professor Sir Paul Anthony Bramley FRCS, FDSRCS obituary
Born 1923, died 2020. Professor of Dental Surgery at the University of Sheffield from 1969 to 1988.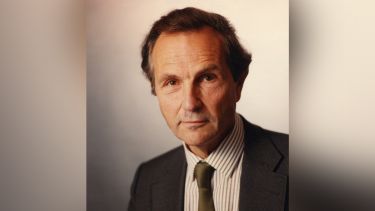 Paul Bramley died peacefully on Sunday 7 June 2020, aged 97, having had a long and distinguished life during which he rose to the very top of his profession.
Paul was Professor of Dental Surgery at the University of Sheffield, 1969-88, and Dean of the School of Clinical Dentistry, 1972-75. He was a member of the Royal Commission on the NHS, 1976-79, and served as Dean of the Faculty of Dental Surgery in the Royal College of Surgeons (RCS), 1980-83.
In 1984, Paul's service to Dentistry was recognised by a knighthood and in 1988 he received the prestigious Colyer Gold Medal from the RCS's Faculty of Dental Surgery. He became National President of the British Dental Association, 1988-89. He was an external examiner to the RCS, dental professional bodies, and many universities in the UK and abroad. He received honorary degrees from Birmingham, Sheffield and the Prince of Songkla University in Thailand. He published extensively in professional journals and jointly authored (with J Norman) in 1989 a definitive book on the Temporomandibular Joint.
Paul was born in Leicester and attended Wyggeston Grammar School. It had excellent sporting facilities and he became a keen and accomplished rugby player. He was a bright boy but whilst many of his school friends were choosing medicine he preferred dentistry thinking it was probably an easier option! At the time, he was in the Christian evangelical Crusaders' Union. A local leader, who was a dentist, urged him to go ahead with dentistry and to read medicine as well.
Consequently, Paul arrived at Birmingham University soon after the outbreak of the Second World War to study dentistry for five years. He captained the University rugby team and was capped for the English Universities. His ambition to read medicine after qualification was thwarted when he was called up to the Army Dental Corps. He spent two years as dental officer to the 6th Airborne Division in Palestine and had to 'jump' many times! After this he was able to resume his medical course at Birmingham but in addition to studying had to keep himself by running a dental practice at evenings and weekends.
In 1952, just before he qualified as a doctor, he went on a climbing holiday in the Lake District where he met Morag, a medical student in Glasgow. Her ambition was to serve as a missionary for the Church of Scotland. They soon married and he joined her running a 100 bed hospital in a remote area of Kenya as locum doctors. They had to do everything including 'wildly heroic surgery and primitive anaesthesia'. It taught them both self-reliance and the ability to adapt in hair-raising moments!
After a year they returned to the UK to start a family, and the same combination of skills and expertise Paul had gained in Kenya led to a consultancy in Oral Surgery, which he coupled with the Directorship of Orthodontics and Oral Surgery at Plymouth General Hospital. He served in this capacity in the South West for 15 years. During this time their family grew with three daughters and a son living in a village near Plymouth. He became a lay reader in the Anglican Diocese of Winchester, adding another dimension to his concept of service. Nearby was a new housing estate which had no active church life so Paul and Morag started a Sunday School and before long had 300 children attending with 20 volunteer teachers. He described it as the most rewarding experience of his life and the best preparation for a university teacher! After this they moved to a remote house on Dartmoor for five years with their growing family and to Sheffield in 1969, when Paul became Professor of Dental Surgery.
In retirement, both Paul and Morag were typically very active. Initially, he kept his professional connections as a director of the Medical Protection Society and Chairman of Dental Protection Ltd. They were faithful and active members of Hathersage Parish Church. They took great interest in the arts and music and enjoyed extensive travel. Paul even found time to compile and edit a book about retirement! Their 12 grandchildren and 11 great grandchildren have been a joy.
Sadly, Morag died three years ago. He missed her greatly but until recently lived independently with typical fortitude. His many friends and colleagues regarded him as a man of great integrity, determination and courage, but also a person of striking humility. He was kind and generous and his abiding interest was in others rather than himself. Many a former student and others have said how he generously mentored and guided them in their careers. A fitting tribute to a modest man of considerable achievements.
---
The University wishes to thank Mary-Jane Ryder and the family of Sir Paul for sending in this obituary. 
We are incredibly grateful to Professor Sir Paul Bramely for his foresight and generosity in leaving a gift to the University in his will. The legacy gift will be allocated to the Student Hardship Fund and will be used to support medicine and dentistry students facing financial hardship.