Born 1988, died 2016. A graduate of the Department of Urban Studies and Planning (MA Commercial Propery 2013).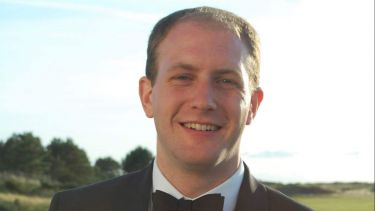 Rob was born in Epsom, Surrey, the second of four children. His father, Ian, is CEO of P3 Logistics based in Prague and his mother, Gina, is Assistant Director of the Old Bedfordians Club. Rob attended Chinthurst Preparatory School in Tadworth and came to Bedford School at the age of 9.
Rob went to Leeds University to read Biology but quickly decided that this was not for him and changed courses after a year and took Environmental Business. He then attended the University of Sheffield in 2012/3 to read a Masters in Real Estate and on graduating, gained a job as a graduate surveyor with DTZ in Edinburgh. Following their merger with Cushman & Wakefield, Rob gained his APC and qualified as a Surveyor, in November 2015, following in a family tradition. Rob loved his job and it was felt by his firm that he had a bright future ahead of him.
Sport had always played a large part in Rob's life. Highly competitive, he had a natural ability at all sports and a dare devil attitude. He played for the 1st XV as well as Bedford Junior Blues and Bedford Athletic RFC, whose Colts team reached the finals of the Midlands Cup, and was the U19 Bedfordshire County discus champion. He did his first bungee jump at the age of 12 and in 2015 he trekked the Himalayas in aid of the Teenage Cancer Trust. At Leeds University he was a member of the University Snowriders Race Team and was Captain of the Men's Lacrosse Team 2008/9.
It was whilst Rob was at Leeds that he found his real passion. He had always enjoyed watching American Football and he joined the Leeds Celtics American Football team in 2010, becoming Media Secretary and then Captain in 2012. He chose to do his Masters at Sheffield because of their Football team, becoming Captain of the Sheffield Sabres in 2013. He also played for the Yorkshire Rams. He was a wide receiver and was a focal point of the Rams' offence during his time with the club, exemplified by the 2013 season in which his 607 receiving yards and nine touchdowns both exceeded the output of all his team-mates combined.
When Rob moved to Scotland he joined the East Kilbride Pirates, Scotland's premier American Football team. After first coming on board as a wide receiver for the Pirates, Rob moved to play safety – a position where he dominated and helped the Pirates in their success as National Premiership North Champions for the 2013/14 and 2014/15 seasons. 
Rob's passing has been a big blow to the team. Rob was only with us for two seasons, but made a huge impact during that time, both on the field and off it. Rob is hugely missed by all who had the pleasure to know him, play with him and coach with him. He was a true gentleman with a great sense of humour and was much loved by all of us."

Amanda McDonald

Pirates chair
Rob's' memory will forever live on at East Kilbride Pirates with the Club commissioning a trophy in his name for their Players' Player of the Year Award.
Rob also shared his expertise and his huge enthusiasm for the sport as a coach for the Edinburgh Napier Knights University American Football team. He had just been called up to train with the Great Britain squad national programme ahead of the 2016 European Championship qualifiers in September.
Rob died very peacefully in his sleep in January, of an undiagnosed cardiac problem known as SADS (Sudden Arrhythmic, Death Syndrome), and such was the affection in which he was held that over 450 people attended the Memorial Service in Bedford School Chapel where Father David Lawrence-March (staff 98-09) took the service. School friends, university friends, work friends and most of his team from East Kilbride made the journey to attend as well as many members of the Rams, Sabres and Celtics.
Cushman & Wakefield's Scottish staff have set up the Rob Worboys Challenge Quaiche (cup) and held their first annual challenge on the Isle of Arran, cycling 57 miles round the island then climbing 874m to the peak of Goat Fell, the highest point on the island.
To say that Rob was outgoing is a massive understatement and in his memory only a suitably ridiculous challenge would do. Rob was very active and he would have loved to have taken part in the Arran Challenge.'

"It was a terrific day and we are so touched that so many people took part and donated money to CRY, (Cardiac Risk in the Young) in Rob's memory. He was a very special person and is greatly missed by everyone at Cushman & Wakefield."

Oliver Barron

Colleage at Cushman's Edinburgh office
The event raised £21,000 and Cushman and Wakefield donated £15,000 giving a massive £36,000 to CRY.
Rob was a man with huge heart who had time for everyone, who was so much fun and who was living his dream both in work and play. He always had a smile on his face, chatting away with his (highly questionable!) facts and stories, and filling the room with his endless energy (and bad jokes), making those around him laugh and smile. There is a gaping hole in the family he has left behind.