Dr Shepherd Willie Bhero obituary
Born 1958, died 2018. A graduate of the Department of Material Science and Engineering.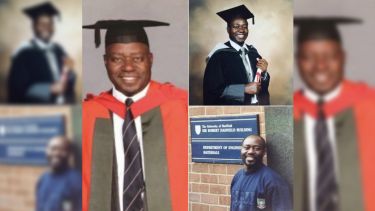 Off
Dr Shepherd Bhero was born in Zimbabwe on 8 April 1958. He attended school in the poor rural areas but despite this, he worked hard, excelled and managed to get a high school bursary up to sixth form. He went to high school at Gokomere High School and went on to study metallurgy at the School of Mines in Bulawayo. 
His first job was at Ziscosteel, working in the metallurgy department as a Plant Metallurgist and supervisor between 1980 and 1994. While working at Ziscosteel he was sponsored by the company and went to study his BSc honours in Metallurgical Engineering at the University of Zimbabwe. He graduated with a Book Prize as top student in 1992. 
His quest for knowledge did not end there; he was awarded a Commonwealth Scholarship, and went to study for a Master's in Advanced Metallurgy at the University of Sheffield in 1995. Concurrently, he completed another Master's degree in Total Quality Management at Sheffield Hallam University in 1998 and a PhD in Metallurgical Engineering at University of Sheffield in 1999.
On his return to Zimbabwe after studying, he was appointed as a Research Scientist at the Scientific Industrial Research and Development Centre (SIRDC) in Harare, Zimbabwe. He was promoted to Director of the Production Engineering Institute during his tenure at SIRDC, and he was also a part time lecturer for MBA and Metallurgical Engineering at the University of Zimbabwe. 
Shepherd worked as a senior lecturer and research supervisor at the University of Johannesburg, South Africa in the Metallurgy department. He was also a quality management, change management and engineering consultant in several corporate companies as well mining and engineering companies. He was a part time MBA lecturer at Tswane University of Technology (TUT) Business School, Pretoria and Mancosa, South Africa. 
In 2013 he graduated with a Masters in Commerce MCom Business Management at University of Johannesburg. 
In 2016 Shepherd was appointed as senior lecturer at Botswana International University of Science and Technology. 
Over the years, Shepherd published 25 journal articles, 16 peer reviewed conference publications and several research articles. 
Prior to his untimely death he was awaiting his next appointment as Professor in Metallurgy. He was ranked as one of the top Metallurgists regionally. 
Dr Bhero's interests went beyond Engineering and Business Management. He was an avid reader, a successful farmer in crop production and cattle ranching. 
Shepherd died of cancer and is survived by his wife, three children and three grandchildren. He will be remembered by his students for constantly reminding them on every question paper that they are the masters of their own destinies. He always reiterated "You cannot be born in this world, live in this world, use God given resources and die without leaving a mark in this world "- Leave a legacy.