Joan Flett's legacy in memory of her husband, Professor Tom Flett
Joan Flett, who died on 27 July 2016 aged 92, had kindly made a bequest in her Will for £5,000 to support cancer research at the University in memory of her husband, Thomas Muirhead Flett. Tom Flett was Professor of Pure Mathematics from 1967 until he died in 1976 from Multiple myeloma, a form of bone marrow cancer.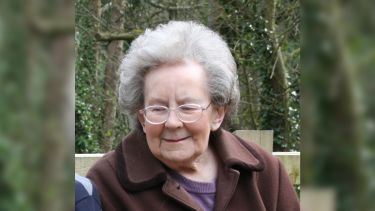 Tom Flett, born in London in 1923, left school early in the Second World War and so continued his higher education part-time whilst starting his first job at the Post Office Research Station at Dollis Hill (where the code breaking computers used at Bletchley Park originated). By 1945 he managed to obtain three degrees as well as an MSc in mathematics through the University of London and it was only in 1947 that he was able to study full-time when he started a PhD at Trinity College, Cambridge. His supervisor was the eminent mathematician, John Edensor Littlewood, who featured in the recent film about the Indian mathematician, Ramanujan. Tom and Joan married in 1948 and after an early career working on x-ray crystallography at the GEC in Wembley, Joan worked in the library at Trinity.
In 1950, Tom was appointed lecturer at Liverpool University where he wrote the undergraduate textbook, 'Mathematical Analysis', and he spent a year at the University of Washington in Seattle in 1966, before moving to Sheffield as professor in 1967. In total, he produced over 50 mathematical papers as well as a second maths book, 'Differential Analysis', published after his death.
It is for their work on traditional dance research that Tom and Joan Flett are possibly most widely known. Both keen Scottish dancers, they became interested in dance history during their time in Cambridge and undertook their first collecting trip to the Outer Hebrides in Easter 1953. Through talking to elderly people, they successfully collected a number of dances which had been thought lost; although song collectors had travelled all over Scotland they found that there had been little research into dance. They continued to go on collecting trips in each University vacation and their definitive book, 'Traditional Dancing in Scotland', was published in 1964 telling the story of dancing before the First World War. Their own demonstration team, the Marlowe Scottish Dancers, performed the dances they collected at the Albert Hall and the Llangollen Eisteddford. Tom was such a well-known expert that he was asked by the Encyclopaedia Britannica to write the first definitions for "Reel", "Strathspey" and "Clog dance". His last research efforts were recording interviews with older members of the Grenoside Sword Dance team in Sheffield and he lectured and danced until 9 months before his death, then clog-dancing on a laboratory table.
After Tom's death Joan continued to write up and promote their dance research as well as to work on local history, producing books on her area of Sheffield including: 'The Story of the Workhouse and Hospital at Nether Edge' and 'Cherry Tree Hill and the Newbould Legacy'. She worked hard on behalf of the Nether Edge Neighbourhood Group as well as supporting the Sheffield General Cemetery Trust and Sheffield Folk Dance Club. Joan was also involved in the University through working first as a volunteer in the Centre for English Cultural Tradition and Language, before helping at the Traditional Heritage Museum run by Professor John Widdowson for more than 20 years. Professor Widdowson said that she was a tremendous organiser and indispensable in giving lectures and museum tours. She was very sad when the museum had to close in 2012.
Submitted by Tom and Joan's daughters Jane Harrison and Lindsay Smith
For further information on Professor Flett please visit his Biography.