The University of Sheffield and Queen Elizabeth II
The University has always had an association with the Royal family and Queen Elizabeth II visited the University on two ocasions, in 1954 and in 2010.
Queen Elizabeth has played a special role in the history of the University and her passing is deeply felt.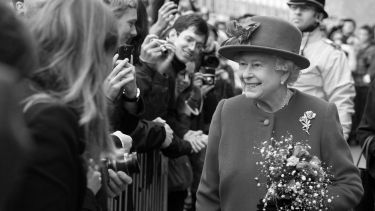 Off
Queen Elizabeth first visited the University with Prince Philip in 1954, to inaugurate the University's Jubilee Session, a commemoration of 50 years since the signing of the University Charter. They returned in 2010 where Her Majesty and Prince Philip came to officially unveil the Sheffield Institute for Translational Neuroscience (SITraN), our world-leading research facility dedicated to research into motor neurone disease and other neurodegenerative conditions. 
As part of this visit they also toured the Advanced Manufacturing Research Centre (AMRC) Factory of the Future and viewed research projects that AMRC researchers were leading for partner companies such as Boeing, BAE Systems and Rolls-Royce.

There is a memorable photo from that time, which was picked up by the national press, of Her Majesty and Prince Philip wearing Virtual Reality glasses to remotely activate a digger from inside the AMRC's MANTRA (Manufacturing Transporter), a customised lorry and trailer designed to give aspiring engineers a hands-on experience with manufacturing technologies. It is an image we will always remember, the Queen with her eyes hidden by these large VR glasses, but with a big smile on her face.
During that day Her Majesty and Prince Philip attended a special lunch, here in Firth Hall and as they left the building they faced huge crowds outside Firth Court and on Western Bank with students, staff, school children and the people of Sheffield waving flags and cheering the Royal couple as they left. 
The University of Sheffield extends its deepest sympathies and condolences to the Royal Family following the passing of Her Majesty, Queen Elizabeth II.