Welcome to the Class of 2001
Welcome to the Class of 2001's reunion page. Congratulations to our alumni celebrating 20 years since graduating from the University of Sheffield.
Welcome!
Alumna Dr Heather Mortiboys (BSc Biomedical Science 2001) has some words of welcome for the Class of 2001 as she shares her memories of Sheffield.
Thank you to everyone who got involved and sent memories and photos from their time at Sheffield.
Here is a video of some of the highlights we received, or if you look down at the bottom of the page, there is a slide deck of everything that was submitted that you can scroll through at your own pace.
The Eden Project opened to the public.
The first Harry Potter film was released. 
Tiger Woods achieved a Career Grand Slam with a Masters tournament win
The price of, in 2001: 
A pint of lager: £2.00
A loaf of bread: £0.71
A pint of milk: £1.44
A litre of fuel: £0.81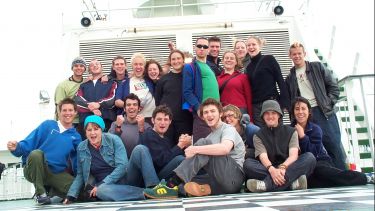 Surf Unit
Jim Dowling
(BEng Mechanical Engineering 2001)
Wow, 20 years already! During these 20 years there have been so many occasions I wished I could time travel back to those days, even just for a week or so. 

Wonderful years, wonderful place.
Alexis Lendaris
(BSc Computer Science 2001)
2001 farewells
Jorge Leal
(MSc Concrete Engineering 2001)
Links