The Department of Archaeology benefits from a number of grants and scholarships to support your learning or research.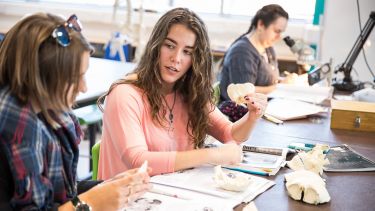 ---
Postgraduate funding
The University of Sheffield is offering 100+ scholarships worth £10,000 each for home students starting a taught postgraduate course in 2023. The scholarships are for students who meet at least one of our widening participation criteria and/or students who achieve a first in their undergraduate degree. This scheme is now open and offer holders are being invited to apply.

125 scholarships worth 25% of tuition fees of a postgraduate taught degree. This scheme is now open and offer holders are being invited to apply.

The scholarship is worth £2,000 for courses in the Faculty of Arts and Humanities and Faculty of Social Sciences and £2,500 for courses in the Faculty of Engineering, Faculty of Medicine, Dentistry and Health, and Faculty of Science for students from selected regions.  No applications are required, but students must accept an offer by a given date.

The University of Sheffield offers Sanctuary Scholarships for those who have sought refuge in the UK due to a conflict in their home country, or have another reason for their forced migration to the UK. Due to launch in early 2023.

This scholarship is a full tuition fee scholarship that offers financial and professional support to British Muslims who are dedicated to bringing positive change to society.

The postgraduate scholarships are for students with career aspirations in media and journalism, technology, sustainability and the environment, law, policy (excluding health policy) and creative content.

The Elite Sports Elite Sports Performance Scheme (ESPS) aims to help elite level athletes at The University of Sheffield maintain their sporting success alongside their course. This scheme will open in early 2023.

Our graduates can take advantage of a discount on tuition fees thanks to our Alumni Rewards Scheme.

The Marek Zvelebil Scholarship for Human Osteology and Funerary Archaeology

A £1,000 scholarship providing support to an excellent UK / EU /Overseas student applying to study for the MSc Human Osteology and Funerary Archaeology. The scholarship is named in honour of the late Professor Zvelebil, who began his career in Sheffield as a BA Archaeology student and was an influential member of academic staff from 1981 until his death in 2011.

Each year, applicants who hold an offer of a place to commence their studies in September by 1st June will be automatically considered for this award. The successful candidate will be contacted in July.

Fulbright Scholarship (US citizens only)

The University of Sheffield is a recognised institution for the Fulbright Scholarship. The All Disciplines Award can be applied to any master's or doctoral degree at any recognised UK university, as well as for independent research projects. Find out more.

Marshall Scholarships (US citizens only)

Up to 40 scholarships are awarded each year, covering tuition fees and a stipend plus other benefits. Visit the Marshall Scholarships website

Derrick Riley Bursary

The Derrick Riley Fund was established in 1994 to foster and support the study of aerial archaeology by young scholars. It provides grants to undergraduate and postgraduate students in the UK and overseas to fund research and further training in aerial archaeology. Find more information and the form here.

 
PhD funding
PhD scholarships

PhD scholarships available for UK and International students. Find out more

Andrew Sherratt Fund

The Department of Archaeology now invites applications for grants from the Fund for use in 2023. Applications can be for amounts up to £1,000, and should be received by the deadline of 31st March 2023. Find out more
Explore the University
Discover why Sheffield is the right choice for you at one of our open days or events.