The Aziz Foundation Scholarship
This scholarship offers financial and professional support to British Muslims who are dedicated to bringing positive change to society.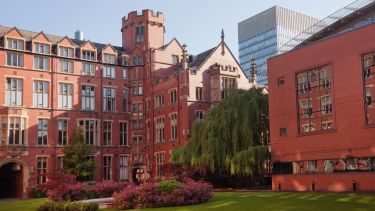 Overview
Students: UK
Value: Full tuition fee scholarship
Places: Five awards for those starting an eligible course (see below) in academic year 2022–23
Application deadlines: 11 January–31 March 2022 (cycle 1), 1 April–11 July 2022 (cycle 2)
The Aziz Foundation was established in 2015 by the Aziz family, and is inspired by the values and teaching of Islam to support the most disadvantaged communities in Britain. Since 2019, the foundation has focused on supporting Muslim individuals by offering masters scholarships that allow recipients to progress in their careers and make meaningful contributions to their industry, community and society as a whole.
Successful applicants will receive a full scholarship for their tuition fees and access to a programme of training days and career mentors via Aziz Scholarships Plus and the Aziz Scholars Association.
Scholarships are awarded to UK individuals with career aspirations in media and journalism, technology, sustainability and the environment, law, policy (excluding health policy) and creative content.
The University of Sheffield awards are therefore restricted to those applying to one of the postgraduate taught courses listed below.
Applicants should meet all of the following requirements:
Eligible for Home fees status at the University
Be active within a Muslim community and demonstrate intimate knowledge of issues affecting British Muslim communities 
Able to demonstrate long-term commitment to community/societal development within Britain
Demonstrate that they require financial assistance in order to undertake a masters degree
School of Architecture

School of Biosciences

Department of Computer Science

Department of Economics

Department of Geography

Department of Journalism Studies

School of Law

Department of Politics and International Relations
Apply nowApplications are submitted online, via a portal on the Aziz Foundation website. Applicants will need to demonstrate active engagement in British Muslim communities, a long-term commitment to community/societal development, and a need for financial assistance in order to undertake a masters degree.
Deadlines
Cycle 1: 31 March 2022
Cycle 2: 11 July 2022
The scholarship application process is undertaken independently of your study application to Sheffield. Both applications must be successful to receive the scholarship.
Weekly online events
Attend an online event when it suits you, all year round, as an alternative to an open day.
Every Wednesday, Sheffield Live sessions cover different aspects of University life. You can also meet your department and learn more about studying your subject.