COVID-19 Impact on Freelancers
The city region is home to a vibrant, interconnected cultural sector. This has a hugely positive impact on our economy, its competitiveness, and on residents' quality of life. It includes a vast web of freelance workers, from performers to events organisers, sound and lighting engineers.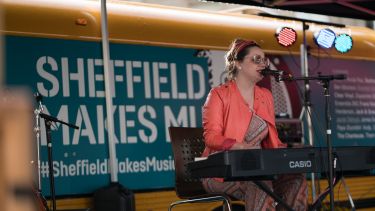 Download report - The Impact of Covid-19 on Freelance Arts Workers in the Sheffield City Region
Key findings
Availability of work has "decreased dramatically" for 75% of respondents. Some have had no work since the start of lockdown, and have no future bookings. Loss of momentum and visibility are real concerns around securing future work.
Respondents have lost 63% of their income this year on average, dropping from £25k turnover in 2019 to just £9.5k in 2020. Many have been helped to some extent by grants and hardship schemes, but some are ineligible and now struggling to see a future in the industry. 61% are considering or actively pursuing work outside the creative sector.
Mental wellbeing has worsened for 68% of respondents, with stress keeping many awake at night. When asked to rate their life satisfaction, freelancers indicate lower levels of happiness and wellbeing than the general population.
Looking to the future, many feel that digital skills will be necessary to survive and 24% want training to support the production of online work. Respondents want to see grants that allow for the creation of new work and exploring new ideas, stressing that grants should be flexible to what each arts worker needs.
A full report will be available in early 2021.
---
Sheffield City Region has shown that in "normal times" the cultural industries contribute £200m to the region's economy, supporting 6,500 jobs that contribute a further £170m. The impact on individual wellbeing is even greater, calculated at close to £1.2bn. The same report shows that self-employed and freelance workers are central to this picture, whilst benchmarking data generated by the University of Sheffield highlights significant risks from the COVID19 pandemic.
Key Facts
Self-employment in the cultural sector is higher than in other industries, at 37% versus 15%, with freelancers earning on average more than a third less than directly employed workers.
Between March and August nearly £11m in lost income from ticket sales, retail sales, sponsorship and donations reported, which has left many freelancers with no work at all.
A total loss of 1,258,220 attendees over the same period.
The risks to the sector are widely acknowledged, but research that focusses on the national picture and on narrowly economistic measures can miss the fine-grain realities of freelance employment in the sector, and as a result how it is both over-exposed to the pandemic and at risk of irredeemable collapse.
Our research on freelancers will generate the evidence needed in the short term, to appreciate the real impact for people and for the sector more widely. Beyond that it will help planning for recovery, with a view to a more resilient sector that is fairer to its freelancers. Data on the true financial implications and on the experiences of those seeking to keep their heads above water will be presented here as it is generated, on a month-by-month basis.
The aim is to empower the cultural sector to speak directly to decision-makers and feed into policy-making. If a venue or cultural event dies the devastation flows out into a wider network of freelancers and suppliers, extending to the health and well-being outcomes of audiences and attendees. This has significant social justice implications, not least for young people who are simultaneously deprived of life-enriching experiences and access to the cultural capital that facilitates access to jobs and careers in the wider creative economy.
If you have questions or would like to be involved in the research please contact Research Associate, Dr Sarah Price (s.price@sheffield.ac.uk) 
Events at the University
Browse upcoming public lectures, exhibitions, family events, concerts, shows and festivals across the University.