Arts Council supports Sheffield's Off the Shelf Festival of Words with grant funding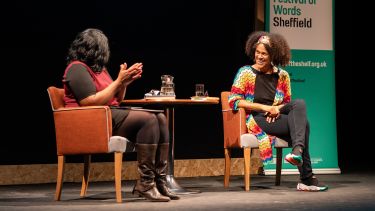 One of the most well known and loved literary festivals in the UK, Off the Shelf is hosted by the University of Sheffield, and the grant will help the festival deliver over 80 live and online events showcasing homegrown literary talent as well as attracting national and international authors. The festival will take place across Sheffield and South Yorkshire from Friday 14 October to Sunday 30 October 2022.
Professor Vanessa Toulmin, Director of City Culture, Partnerships and Regional Engagement at the University of Sheffield said: "We would like to thank Arts Council England for providing Off the Shelf with much needed funding. The University of Sheffield is committed to supporting our valuable cultural assets and Off the Shelf is just that - providing an attraction for all at tastes and offering a diverse programme covering a multitude of interests." 
Pete Massey, Director North, Arts Council England says: "Arts Council England is delighted to support the Off the Shelf Festival of Words, which is a key event in the North's literary calendar. The festival provides a fantastic platform for writers, poets and thinkers from across the world to come to South Yorkshire and share an exciting mixture of live and online events for visitors and local communities alike. I'm excited to see how the festival will continue to develop and contribute to the literary scene in Yorkshire and beyond."
The festival will include guest curations and commissions of new work and events for families, children and young people in order to broaden and improve opportunities for creative participation outside of school.
The full programme of events will be announced in September 2022.