Comment: The beauty and magic of live music gigs can never be replicated online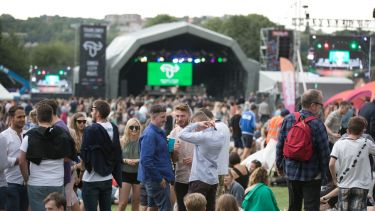 Originally published in Sheffield Telegraph, 02.06.20
The beauty and magic of live music gigs can never be replicated online
Like many of the thousands of people in the music industry in Sheffield, he faces a difficult few months ahead with gigs postponed, rehearsals not possible and social distancing limiting or even preventing an audience. He came to Sheffield from North Yorkshire decades ago because of its reputation for music and the creative energy that resonated from the city and he tells me proudly he was a founder member of Sheffield Improvised Jazz. Playing in a variety of bands over the years, he is not one of the famous household names Sheffield has produced, but he represents in many ways the essence of what makes Sheffield a music city.
He now rehearses at Yellow Arch, which counts Richard Hawley among its most famous residents, just one of many of the former Little Mesters works which enabled the musical ecology to flourish. Like many musicians from his generation in Sheffield he played the Limit in the 1970s and The Leadmill from the 1980s onwards when it started its journey to being one of our most famous venues.
But he can also recall countless other lost and current venues including the 'Mucky Duck', known more recently as the Boardwalk, the Broadfield, pre-True North days, and the Pheasant at Sheffield Lane Top, all of which were part of his story. Lately, he performed regularly at Access Space with long-term collaborator Charlie Collins, of Clock DVA fame, and appeared in A Very British Coup playing the Red Flag as part of the Jazz quartet Hornweb.
So when I think of the many different ways that the new norm will be and wrestle with risk assessments, planning docs and logistical challenges that the creative and leisure industries face, one reality I will not face, I never ever want to replace or lose the beauty and magic of the live music gig in those sweaty dark venues with a purely online digital experience.
Protect our venues in all their multitude of forms, make them part of our recovery plan, for they are both our legacy as a city and also the future of music for both its creators and its audiences.

PROFESSOR VANESSA TOULMIN
Everyone can remember their first gig – in my case The Beat at Lancaster University aged 13. Many of my formative gigging experiences in Lancashire were the Empress Ballroom in Blackpool or the famous Hacienda in Manchester. However, for the past three decades my main musical memories relate to nearly all of Sheffield's amazing venues: seeing Gillian Welsh at the Pheasant with 400-plus people in a 200-capacity venue, Dan Penn at the Boardwalk, Lloyd Cole at the Limit, Desmond Dekker at The Leadmill, John Lee Hooker at the City Hall, Dolly Parton at the Arena, Sun Ra at the Student's Union and the early days of Tramlines with a venue on every street corner.
I've not even listed the many Sheffield bands I've encountered over the decades. Some of these are recalled in the lovingly produced Dreams to Fill a Vacuum four-CD compilation, the Sound of Sheffield 1978-88, and these musings are not meant to be a list of every Sheffield band as there are far too many. Listening to music can evoke a time and memory but watching a live gig and being part of that audience creates an experience that streaming via Youtube, Facebook Live or Zoom cannot even begin to replicate.
So, as both an event organiser and audience member, I want to emphasise the importance of our live music ecology and economy for the future of Sheffield. It is part of our DNA as a city, it creates a sense of place, of emotion, of pride and independence with each generation having an anthem written by the band at the time.
Music Venue Trust recently organised a fundraiser for #saveourvenues campaign with Billy Bragg appearing virtually to raise more than £20,000 for The Leadmill, a venue he has played regularly. I watched him go through his repertoire, but closed my eyes so I could sift through flashbacks of previous gigs in my memory as Billy sang There is Power in a Union.
So yes donate online, support our musicians, freelancers, music providers and infrastructure from technicians, to roadies to tour managers. But when the venues reopen, be it large or small, let us hope they are not lost forever, pledge support for those treasures that make our city unique, edgy and accessible to all making that music journey as my housemate did many decades ago and countless others hope to still do.
As Billy says, there is a power in a union and the one that is created and experienced by being at a live music gig lasts a lifetime.