Comment: How South Yorkshire's AMRC shows how levelling up can work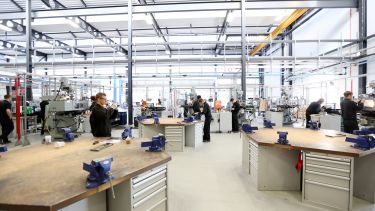 Originally published in the Yorkshire Post, 8th December 2020
The Chancellor's announcement of the new £4bn 'levelling up' fund is extremely welcome, but questions remain about how soon we will see this investment, and how best to ensure that it is focused on areas and projects we know will have the greatest impact and deliver real, meaningful improvements to people's lives.
The Prime Minister also announced his ambitious ten-point plan for a green industrial revolution stating that £12bn of government investment will be mobilised to create and support up to 250,000 highly-skilled green jobs in the UK, focusing on the UK's industrial heartlands. While this sounds like good news for our region, it is imperative that such announcements are backed with delivery and action.
While these plans provide a strong baseline, there is more the Government can do now, if they are to make tangible progress on election promises made and do so within the remaining four years of this Parliament.
The AMRC strengthens regional manufacturing capabilities, while also attracting global brands like McLaren and Boeing to the North.

The relationship between an academic institution and a business has also proven to be effective in delivering high-quality apprenticeships to young people and is an option that could be utilised by the Government.

Steven Foxley, CEO, AMRC
They must seek out and build on proven models that are making a difference now, to avoid the wider 'levelling up' agenda from ending up in the filing cabinet of short-lived slogans and forgotten 'Northern' economic interventions.
To start, research and development funding that is currently concentrated in the south east 'Golden Triangle' of Cambridge, London and Oxford needs to be invested more widely.
An investment of larger amounts of the existing research and development budget across the North will only make for better use of the entire country's skills base and human capital, delivering cutting edge education and skills training, and enabling pioneering innovative research to flourish across a wider network of centres of excellence.
The University of Sheffield Advanced Manufacturing Research Centre (AMRC) has shown how effective this model of an academic-business partnership can be over the past 20 years.
Across Sheffield, Barnsley, Rotherham and Doncaster, companies across the city region have partnered with the AMRC Training Centre to provide opportunities for young people and develop a skilled workforce.
The model can be replicated in satellite campuses in different areas of the UK to deliver economic impact in their home towns, such as the AMRC North West in Samlesbury in Lancashire and AMRC Cymru in Broughton, Wales. This is a tried and tested model that can be implemented to support jobs and crucially support our young people across the UK, as part of the post-Covid 19 economic recovery.
The Government has set high ambitions for its plans to build back better and greener, as well as spread opportunity across the country.
These ambitions can be met through proven models that are delivering innovation, skills, jobs, growth and productivity right now through investment in the North's R&D capabilities, such as the AMRC, Nuclear AMRC and indeed an array of strong capability research centres across the North.
The AMRC model shows how 'levelling-up' can work.