Comment: The show will go on in Sheffield thanks to audience support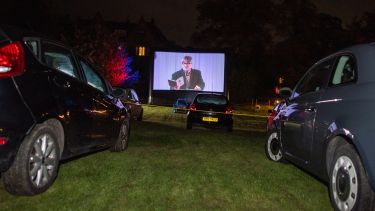 Originally published in Sheffield Telegraph, 27.10.2020
Two months later, the mood changed. Sheffield and South Yorkshire had moved from the newly created Tier 1 to suddenly being in Tier 3 along with those other pesky northern enclaves known as the City regions. Despite months of planning, suddenly yet again, we were facing cancellations and a dramatic loss of income.
In addition, our wonderful authors and performers were denied their platform and most importantly our fantastically faithful Off the Shelf audience were facing disappointment.
Daily the tension mounted as we awaited public announcements, clarity and precise rules over what we could or could not do.
Author Lemn Sissay
Our venues were extra safe, two metre plus social distancing; Covid complaint safety rules enforced and well-trained staff ready in both the Crucible and the Octagon. We were not alone in our worries as event promoters throughout the City faced cancellation, last-minute changes and dwindling audiences. Advice both locally and nationally was baffling, open to interpretation on one level but with the cold harsh reality of the infection increases on the other hand appearing to take the decision out of our hands.
But Off the Shelf continued to plan. Despite the daily stress and the rewriting of risk assessments, contingency plans and moving from live and in-person to live and on skype, we managed. Venues opened, Lemn Sissay travelled up from London, the amazing Candice Brathwaite came from Milton Keynes and Stuart Macomie traversed across the Pennines from Manchester.
Simon Armitage presented two new poems commissioned by the Festival to commemorate Ted Hughes, his fellow Yorkshire Poet Laureate, in front of 50 cars who flashed their headlights appreciatively at the spectacle of a poetry drive-in. Lemn Sissay was giddy and happy to be in front of an audience for the first time in seven months and Candice Brathwaite and Désirée Reynolds danced with joy on the Crucible stage as part of the Black Women Right Now strand.
This week Dan Walker inspired us with wonderful emotional stories from his new book Remarkable People: Extraordinary Stories of Everyday People. So thank you to our audiences for believing us and continuing to come, thank you to the creative talent on show who wanted to come to Sheffield to spread hope and happiness. For those reasons alone we were determined to continue, even if only a handful of people came out, as we wanted to show that we could battle isolation and fear by providing an outlet for those who needed it.
We were not alone as alongside our cultural colleagues in the city we had determined - to use the oldest cliché in the book - the show must go on. Music in the Round presented a wonderful programme of socially distanced concerts, Doc/Fest advertised their weekender events throughout October and Sheffield Theatres bravely defiantly announced its Together Season for November onwards. The Showroom presented Celluloid Screams, Museum Sheffield and Site launched new exhibitions as the cultural sector in the City opened its doors.

PROFESSOR VANESSA TOULMIN, DIRECTOR OF CITY AND CULTURE, UNIVERSITY OF SHEFFIELD
We did this for many reasons, firstly to support our sector as digital may be the future but we are not quite there yet despite the new audiences who downloaded or watched online.
Secondly to pay the freelancers who are the lifeblood who make the show go on, who have been cruelly left adrift from many of the government packages available. Finally, to provide a glimmer of hope to the audiences who need the mental stimulation of a live event, whose loyalty to the Festival and our city events are crucial to the future success in the new normal we will be facing. They did not complain about temperature checks, track and trace or the discomfort of facemasks. They made the largest of halls seem full (rather than sparsely occupied) with their enthusiasm and support. They thanked us for putting on the events, supported us by buying tickets and laid the groundwork for future festivals and events to happen. We were happy knowing that our audience not only will return but also did return not in large numbers understandably but with resilience and hope. That is the message that the Off the Shelf team will take with us over winter as we start to plan for next year when we celebrate thirty years. Not that the show must go but it did and it will continue to as long as the audience comes.