Comment: We must fight to ensure Sheffield's theatre lights are only temporarily dimmed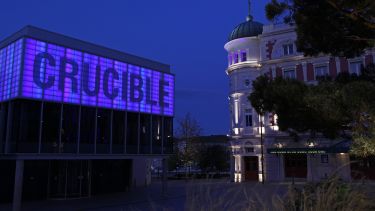 Originally published in Sheffield Telegraph, 23.07.2020
So the curtain has fallen, the lights are out and our great theatres are, in the words of Dan Bates, Sheffield Theatres chief executive officer, facing a catastrophic impact as overnight their audiences and income was taken away.
Both the Lyceum and the Crucible will be closed until spring which brings the period of time of closure to a full year.
A year where we as audiences, theatre lovers, friends, colleagues, face the longest period without the beating creative heart of our city. And before you cry the show will go on, the music will still play and we can watch all this online, let us consider what we as both a city and a lover of great art and spectacle will be missing.
Sheffield favourite 'Dame' Damian Williams won't be seen this year after Sheffield Theatres delayed their annual panto for 12 months due to coronavirus
From an economic viewpoint this impact on our city is staggering. Sheffield Theatres offers the largest theatre complex outside of London, comprising the Crucible Theatre, Lyceum Theatre and Crucible Studio.

PROFESSOR VANESSA TOULMIN
Sheffield's Crucible, Lyceum & Studio theatres' three stages present more than 700 performances playing to more than 400,000 people annually. They contribute £29 million to the local economy and employs just under 250 people. Some 285 million people watch World Snooker in 80 countries. Income from productions/ticket sales accounts for 89 per cent of total income. More than 350,000 tickets are sold each year with a turnover of £15m of which less than 11 per cent is through public funding.
Sheffield Theatres was the epitome of success in the increasingly commercialised world of public funding, the more successful it became the less support it received and now this model is shown to be built on sand.
The irony of this world of public/private funding was that the more financially and successful you were, the more vulnerable you now appear.
Compare this with other organisations throughout the UK, which have leaked money, required constant public support and whose public subsidy is greater than their income, they are surviving.
The next thing to consider is the physical infrastructure the immense presence of these two staggeringly beautiful Grade II*-listed buildings built at a time when confidence is in theatre was high and ambitious.
Tudor Square will be empty, audiences will be lost and the vitality and impact of their creative presence will be felt at the very heart of the city as the doors are temporarily closed.
Sheffield city centre is facing a crisis on many points, but the impact on our urban environment of job losses, audience losses will spread like a tidal wave to the small cafes, restaurants, hotels and leisure opportunities that feed on the economic pulse that is our very own theatreland.
Buildings need people and people need buildings, much as I acknowledge the innovation that online viewing and wider access has been gained through the lockdown, I must also state that digital or virtual still needs a home to be staged from, a venue rather than a bedroom to be zoomed from, a place in which to create a stage on, a platform from which to perform.
We in Sheffield have one of the greatest and most flexible stages in the country, our very own aptly named Crucible, acknowledged internationally as a cradle of creativity, a birth place for great productions, new talents to shine and one that is fed and feeds into the creative ecology of our city.

PROFESSOR VANESSA TOULMIN
The productions born in Sheffield travel out throughout the region, the United Kingdom and internationally transmitting our creative DNA.
To paraphrase Sir Laurence Olivier who stated that 'for a great city, a great theatre is the outward and visible sign of an inward and probable culture', Sheffield Theatres is one of our greatest international assets in broadcasting the probable spirit and stories of the people.
These stories have the soul of the city at the heart of their narrative, we recognise their journeys as they overlap and put to words and music the struggles and joys we have faced in our lives.
The heart-warming and inspiring Everybody's Talking About Jamie, about a boy facing prejudice is a West End smash and soon to be released movie produced by Warp films of Sheffield. Standing at the Sky's Edge with words and lyrics by Richard Hawley, book by Chris Bush tells the story of Park Hill and these are only two of a long list of notable success stories created and made in the crucible of Sheffield.
And finally the audiences, those hundreds of thousands of people who like myself need and crave the physicality of live performance whether it be Shakespeare or pantomime, contemporary or traditional avant garde or the cannon, all representative of many myriad art forms that come under the mantle of theatre.
I applaud the spirit of Sheffield Theatres in continuing to perform, to create pop up shows and to enable me to enjoy my favourite pantomime Dame Damian in albeit a reduced form.
For theatre, as Oscar Wilde says, is the' greatest of all art forms, the most immediate way in which a human being can share with another the sense of what it is to be a human being'.
We must not lose sight of this as we feel the pain of yet another consequence of the pandemic. We must urge all business leaders, residents and lovers of theatres to support this crucible of creativity as it fights to keep the flames burning.
To ensure the lights are only partially dimmed so that they will once again shine brightly for the city that loves it.​​​​​​​​​​​​​​
A global reputation
Sheffield is a research university with a global reputation for excellence. We're a member of the Russell Group: one of the 24 leading UK universities for research and teaching.