Economics student completes internship with local authority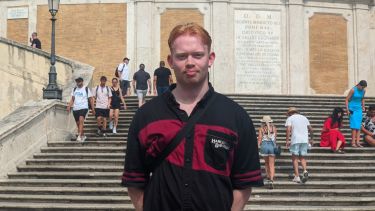 Finn Shimmin, a 3rd year BSc Economics student from the Isle of Man, recently completed a coveted research internship with the South Yorkshire Mayoral Combined Authority (SYMCA). The authority is a formal partnership of councils that shapes policy and leads on decision-making. Formed in 2014, the constituent members of the Mayoral Combined Authority are Sheffield, Rotherham, Barnsley and Doncaster councils. 
---
Tell us about your internship with SYMCA.
I spent 6 weeks at the start of summer working as an intern for the South Yorkshire Mayoral Combined Authority - the local devolved authority for our region. The overall aim for the internship was for me to develop a research project relevant to South Yorkshire, in which I chose to study the links between deprivation, employment and public transport accessibility. Alongside this, I engaged in the tasks the policy team faced day-to-day, for example; contributing to periodical summaries and discussing new ways to tackle policy challenges in meetings.
What did you work on specifically that you enjoyed? 
I enjoyed working both independently and as part of the policy team on a range of tasks. My highlights in the workplace include presenting the findings of my research project to the data and policy team, and contributing to the weekly economic briefings delivered by SYMCA.
How will this internship help with your studies? 
My time at SYMCA quickly developed my independent and team-based problem solving skills. Carrying out a research project using real life data helped hone my statistical modelling skills, and this was accelerated by engaging and communicating with the experts at SYMCA.
Will your internship help for potential future employment? 
The brilliant policy team at SYMCA showed me a different way to approach challenges in the workplace, as well as valuable insight on the way things are run at a regional and national level. My time at SYMCA was stimulating and inherently meaningful, making the internship a valuable experience when going forward in my career after university.
---
The students we have had supporting us on the project internships have been excellent. They have been engaged, bright and articulate when challenged with work tasks and when given creative thinking. They are a credit to the Department of Economics and to the university."

Jonathan Guest

Head of Policy, South Yorkshire Mayoral Combined Authority.
A global reputation
Sheffield is a research university with a global reputation for excellence. We're a member of the Russell Group: one of the 24 leading UK universities for research and teaching.