Engineering student scoops top prize for internship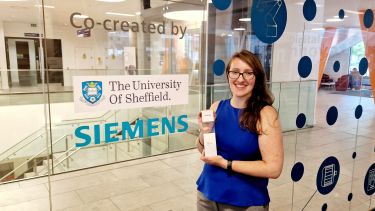 Sioned, a third-year MEng General Engineering student who recently completed a one-year internship with Siemens, was recently recognised by the company at a formal award ceremony for her growth and dedication as an intern. Fifty UK interns applied for the award, with ten making it to the finals and Sioned was chosen as the winner by several members of the Siemens UK Executive Managing Board, including UK CEO Carl Ennis.
Siemens is a global, multinational conglomerate and the largest industrial manufacturing company in Europe that focuses on digitalisation, electrification, and automation for the process and manufacturing industries.  During her placement Sioned worked with Siemens Research and Innovation Ecosystems as digital innovation engineering intern dealing with several research projects between the university, Siemens and other key stakeholders. 
The Executive Board singled out her collaboration with senior staff to establish the University's first dedicated Digital Innovation Zone (DIZ) as one of her major internship achievements. DIZ will give more students access to Siemens technology to advance their digital skills and motivate the next generation of engineers.
Sioned said: "I am honoured to earn the Siemens Intern of the Year award in recognition of my efforts.  The internship has helped me move beyond theory and help me put my skills into real world practice."
"In particular, I'm confident that the digital skills and knowledge I've learned this year will benefit me in completing my degree and provide a solid platform for me to pursue a career after I graduate. The internship truly has helped me immerse myself in one of Siemens core and exciting business areas!"
David Moss Digital Programme Manager for Siemens Research and Development and Sioned's line Manager said:
"Sioned has been fantastic, she has the drive and determination that you need when working as an intern and she threw herself headlong into everything she did. She had a genuine impact on multiple outreach and research projects and really contributed to Siemens drive for innovation." 
"She was truly engaged throughout the internship, she'd listen to any given brief, she'd then fully understand and then clearly articulate the work.  I'm positive that she will have an illustrious career in the future, and this award is very well deserved."
Since her internship, Sioned is now thinking of pursuing a career with Siemens due to the growing demand for digital roles in a variety of engineering industries.
Siemens is a key partner of the University of Sheffield and continues to strengthen its partnership and involvement across the organisation, building on existing relationships and developing new ones with research centres like the Advanced Manufacturing Research Centre (AMRC).  These complement the company's varied business strands with the University's world-leading research strengths.     
A world top-100 university
We're a world top-100 university renowned for the excellence, impact and distinctiveness of our research-led learning and teaching.