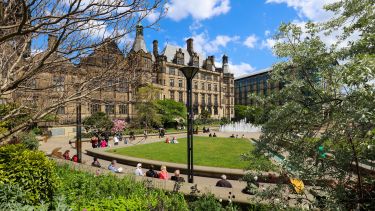 In March I had the privilege of attending South by Southwest (SXSW) in Austin, Texas with other creatives from the city funded by DIT and a variety of sponsors including the University.
As both a festival director and producer I was keen to see an event that spans 11 days of music, digital, film and creative industries that encompasses the whole city of Austin. I also wanted to see for myself the SXSW model seen as an exemplar for regeneration around the world.
So the trip was about making connections, learning from others and seeing how we can showcase our talent to the world with hopefully a bit of good music and Texas hospitality threw in.
For 11 days the city rocked, the music was loud, varied and spilled out into garage forecourts, backyards with over a 1000 licenses distributed by Austin City Hall.
Hipsters, gamers and musicians were interchangeable, with the exception of the rucksack and the foot attire (cowboy boots for hipsters and trainers for those who know the peril of 11 days running from venue to venue), marking out which part of the festival the attendees were registered for.
The festival is immense and attracts over a million people, showcasing local, national and international talent with pop up embassies from the UK, Germany and many more countries.
Austin as a city has embraced this event, it created this event but it also carried a warning sticker 'Keep Austin Weird' as it realises the very grassroots ecology that created this phenomenon was being priced out or alienated from the success story it created.
It reminded me of my time at the University of Pittsburgh as a visiting professor. This is our twin city and arguably the regeneration story of how a post-industrial city has found a new narrative, but where the newly cleaned gleaming buildings reclaimed from years of industrial pollution sit alongside slogans urging the city fathers to 'keep Pittsburgh dirty'.
I could see lessons for Sheffield in both these great American cities; the post-industrial landscape of Pittsburgh regenerated by becoming the healthcare capital of the US, crossed with the musical heritage of Austin which has created spawned a thousand imitators.
But Sheffield does not seek to imitate other cities or transplant wholesale concepts from its neighbours but only has to look within to see what can be achieved.
So we can learn from Austin and Pittsburgh and many other magnet creative cities in the world but we do not need to copy them or became an inferior version.
As the city is reborn as Attercliffe is renamed East Sheffield, our city-centre becomes home to 23,400 people and has won three national awards for safety with an increase of 3,900 new jobs in the past five years. Let us continue to embrace what we love about this city.
It's great universities play an increasingly important role as place makers not only for our students but for our staff and residents and the people of Sheffield.
Our world-leading Advanced Manufacturing Park, home to the University of Sheffield's AMRC and creating world-class partnerships with Boeing, Rolls Royce and now Maclaren.
The wonderful parks and countryside are used by the 10,000 climbers and 14,00 park runners based in our green and pleasant city, one-third of which is situated in a National Park.
A city which is home to the incredible Sheffield Theatres, the largest theatre complex outside London, with its three stages presenting over 700 performances a year.
---
​​​Keep Sheffield Real, allow space for the creatives, and maintain the spirit of independence and quirkiness that sets us apart from our shinier Northern counterparts.

Professor Vanessa Toulmin

Director of City and Culture​​​​
---
Let's celebrate a city where students are embraced as locals, where 75 per cent of the beer made in the City is consumed in the city but the ambition of a new bottling and canning unit can allow us to export it to the world.
Let's enable a city centre where our fantastic independent offer, as showcased in the recent publication This is Sheffield from the Sheffield BID which highlights our bars, cafes, bookshops, retail and food offer, sits alongside the newly emerging retail quarter and the regeneration of the Moor.
Let's create a city which is not just a masterplan only in the hands of the planners or external investors but one that is shaped by real creativity, productivity, co-production with input from those who live and work here.
We are a city, where our seven hills allow us to keep our feet on the ground but our head in the clouds and to continue to celebrate a city which is both local and global, looks forwards but learns from our industrial and radical heritage and continues it in new innovative ways.
We are a city of learning, makers, charity and sanctuary as well as manufacturing, music art and beer and home also to more than 10,000 international students from 25 different countries including 6,000 Chinese.
So let us to continue to look beyond our seven hills for inspiration to embrace our international position in the world but to maintain our identity, celebrate our quirkiness and Keep Sheffield Real.
For that is where the magic lies.
A world top-100 university
We're a world top-100 university renowned for the excellence, impact and distinctiveness of our research-led learning and teaching.