Line up announced for Together in the Square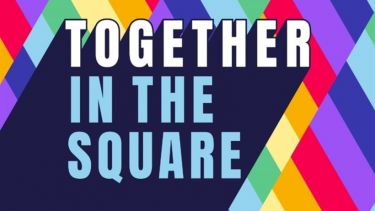 Sheffield Theatres, in production with The University of Sheffield and Yellow Bus Events, is excited to host the return of Together in the Square - an outdoor weekend of free events, taking place on Saturday 9 and Sunday 10 July. Tudor Square will be transformed into a festival space with events including street acts, music, poetry and theatre, to coincide with the first weekend of the UEFA Women's EURO 2022.
Street performers will be entertaining across both days from 11am, including: Mark Mark Productions, Able Mabel & Pete Dobbing, Abi Collins, Madame Zucchini, Bread & Butter Productions and Felicity Footloose.

On Saturday 9 July from 2pm, enjoy acapella chorus by Steel City Voices, followed by evocative songs from Emma Saville. After this, Debjani Chatterjee performs spoken word poetry, then music from Hattie Cooke and contemporary dance from over 50s company Third Bite Dance. Later into the afternoon, Sunrit Culture Group share traditional Indian arts and culture with DJ Malika Green performing between acts and into the evening. Northern rapper Kay Greyson then performs, and the day concludes with an immersive and part improvised Drag King cabaret show from HÄUS OF DONS.
On Sunday 10 July, the lovable Granny Norbag entertains from 1.30pm, followed by Pinder Dance Productions who last performed in the Crucible for our community celebration event Together in the City. We welcome BBC Radio Sheffield host Sile Sibanda, before rounding off the weekend with a performance from Stannington Brass Band.
We have a fantastic line-up of talent for this year's Together in the Square, including the return of acts who entertained the crowd last year and new performers who we are excited to see debut on the square. Both days will provide free entertainment for all ages, plus we have a BBQ running outside Crucible Corner for guests to enjoy across the two days. 

With the first UEFA Women's EURO 2022 match happening at Bramall Lane on Saturday 9 July, we hope the people of Sheffield will enjoy some theatre and entertainment with us, alongside the brilliant teams at The University of Sheffield and Yellow Bus Events.

John Tomlinson

Producer, Sheffield Theatres
Professor Vanessa Toulmin, Director of City and Culture at the University of Sheffield, added:
It's always brilliant to work with our great cultural partners Sheffield Theatres and Yellow Bus Events on events like Together in the Square. We're looking forward to a day filled with vibrant music, poetry and street theatre by local artists and performers to bring free entertainment and culture to the city centre.

Professor Vanessa Toulmin

Director of City and Culture, the University of Sheffield
Alongside these performances and other creative events happening across the city, Sheffield Theatres celebrates the history of football in Sheffield by coinciding with the UEFA Women's EURO 2022. Matches will take place throughout July at both Bramall Lane in Sheffield and New York Stadium in Rotherham, with events such as Together in the Square supporting the celebrations throughout South Yorkshire.
All performances at Together in the Square will be free with unallocated seating on Tudor Square. An outdoor BBQ will be running in the square outside Crucible Corner on Saturday and Sunday, catering for meat, vegetarian and vegan options.
Together in the Square is made possible by the support of Sheffield City Council. More information can be found at sheffieldtheatres.co.uk.