Made Together: A greener, healthier, more vibrant and innovative region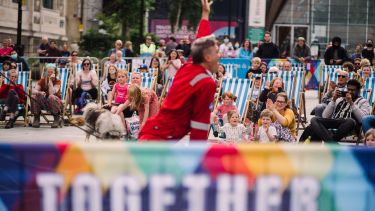 By Professor Vanessa Toulmin and Dr Sarah Want, University of Sheffield 
(First published in Sheffield Star, 01.10.2021)
The people of our region are like no others: we are creative, independent and, as seen through the last year, resilient. 
As we emerge from the pandemic, we've got to make the most of these strengths to forge an even brighter future for ourselves and, whether we live in Sheffield, Barnsley, Doncaster or Rotherham, or the towns and villages in between, we all have a role to play.
The University of Sheffield has a part to play too. As the COVID-19 vaccine success of UK research teams has shown, the research undertaken at universities can have an impact on thousands of lives. We're proud of the contribution our staff and students made to the UK's response to Covid - from vaccine development to the manufacture of ventilators.  We're equally proud of the work of others like our medical student, Hasnain Khan, who was awarded a Queen's Birthday Honour for supporting frontline doctors, nurses and healthcare workers during the crisis by leading the Sheffield Medical Students' Helping Hands scheme.
Colleagues in the School of Education played a very different but no less significant role by developing a range of resources which equipped parents and carers to encourage children's creativity and learning during lockdown. Whether it was making a cardboard guitar or spaghetti bridge, or even building a bot, the resources were carefully designed to help make the most of whatever people had to hand at home.  But our impact stretches far beyond the challenges of the pandemic. Across South Yorkshire, we are transforming land and buildings, improving local health and working towards a zero carbon region - and we've got plans to make an even bigger difference to all our lives.  
Working with organisations and individuals across the area we've created the Made Together programme: a major University of Sheffield regeneration initiative with a dedicated team of staff and a clear brief to do four things: make our region greener, more innovative, healthier and more vibrant.  
But beyond the straplines and titles what we are really trying to do is make a bigger difference to the communities we partner with and work with them to adapt to their needs. By doing things differently and stepping out of our comfort zones – together we can provide a 'joined-up' response to community needs and societal issues, not only in the South Yorkshire region but beyond. 
If you think this has nothing to do with you, you're wrong. We hope Made Together will make an impact on your life – directly or indirectly – whoever you are, and wherever you live in our region.
There are already hundreds of people across the University who are involved in Made Together projects and they're working with hundreds of partners – from local authorities to charities, community groups, cultural organisations as well as private businesses. All with the aim of – in one way or another - improving life in the region. 
In Sheffield city centre, we've joined forces with the city council and the Castlegate Partnership to breathe new life into the city's oldest quarter. By 2024, city centre visitors will also see the fruits of the £15.8 million Future High Streets funding we helped Sheffield City Council to secure to reinvent spaces hit hard by the decline in high street spending.
If you live in Doncaster and Bassetlaw you may be already benefiting from the Made Together programme, through our medical students working on placements to provide valuable healthcare and well-being support in these communities.
Residents in a string of other places, from Elsecar to Rotherham and back to Doncaster, are also seeing Made Together in action through collaborations with architecture academics and students on exciting local development projects.       
As you may drive along the Sheffield Parkway you can also see part of the bigger transformation picture on the Sheffield/Rotherham border, with the University's Advanced Manufacturing Research Centre (AMRC) and its sister facilities. Beyond transforming the site of the former Orgreave pit, they are forging a new reputation for the entire region, giving it a worldwide name for advanced manufacturing excellence.
The technology we  develop there is pioneering, whether it is the robotics which made part of the wind turbine generator production process 60 times faster, or the design which got a pioneering rehabilitation aid into production.
We're thinking big in other ways, using our know-how to help the region achieve its net-zero carbon targets and our team of 130 world-class health researchers to help tackle health inequalities.  
And we're supporting the region's culture – whether it is by delivering nationally acclaimed festivals like Off the Shelf which this year celebrates its 30th anniversary,  or documenting the impact of Covid-19 to help our creative and cultural industries navigate the challenges of the post pandemic world. 
Made Together is not just about our four aims. It's about creating better job prospects for everyone in the region, and giving us all – you included - the opportunities – good health, great places to live and great things to do – that we all need to make the most of our lives.
We're proud because we can see these new opportunities starting to emerge. Thanks to its partners and the creativity, independence and resilience that makes this area so special, the Made Together programme really is creating a brighter future for the region. 
Join our Made Together journey and, over the next few weeks, check The Star for more stories about how the programme is making a difference to people and places in our region.