Made Together: On the shoulders of giants - standing up for sustainable food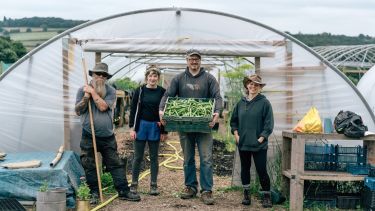 Originally published in Sheffield Star, 12/11/2021
Regather is a sustainable food co-operative which runs a city-wide organic fruit & vegetable box scheme, and a 15-acre market garden and agroforestry development in the Moss Valley on the fringes of Sheffield and North East Derbyshire.
Today we provide around 700 households per week with organic fruit, vegetables and groceries. We sustain 24 people with Real Living Wage jobs with an annual turnover of almost £1 million. We are really proud of our long standing relationship with the University of Sheffield, and the Made Together programme, which helps us work together to tackle the massive challenge of changing our food and farming systems for the better. 
For us, sustainable food is about many things: using land more productively; having better quality food that everyone can afford, keeping money in the local economy, improving health and the environment, and helping more people understand the need for better food systems.
Working with the University's Institute for Sustainable Food, Regather is a small but significant part of H3, a £6 million research project which is looking at these challenges on a national scale and exploring ways to make the UK food system more sustainable.
One particular interest for H3 is increasing production of health-promoting vegetables and cutting our reliance on harmful agricultural inputs and imported food. 
It's really exciting work, partly because it's about bringing together a real range of organisations interested in food systems to collaborate on solving the most fundamental challenge of our time.
Working in partnership with Regather has allowed Sheffield academics and students a chance to bring their research and learning into a real-life environment. For us, the partnership with the University's Institute is like standing on the shoulders of giants and puts us in the same room as other important and influential organisations, like the Soil Association, who share responsibility for organic food standards in the UK.
Sheffield, along with the whole of South Yorkshire is the ideal place to nurture these kinds of relationships and programmes of work. As a region, because different organisations are co-operating across sectors and boundaries, talking about the challenge of sustainable food, and sharing ideas, we're making very good progress across all four local authority areas.
ShefFood is the hub of food partnership activity across Sheffield. For over 12 years Regather has been a big part of helping make this happen. Personally, I am deeply passionate about helping everyone, whoever they are, understand why more healthy, fair and sustainable food is so vital today. We're making great progress and I am so proud that everyone's efforts have been recognised with a national Sustainable Food Places award for Sheffield.
Regather's relationship with the University of Sheffield goes beyond the H3 project and ShefFood and is based on friendship as much as work. A highlight for me is hosting an annual geography field trip for students on my old degree course. Linking back to my own time as a student and seeing how far we've all progressed is a great example of how the University and the Made Together programme connects people across the region in a million different ways.