Pint of Science returns to Sheffield's pubs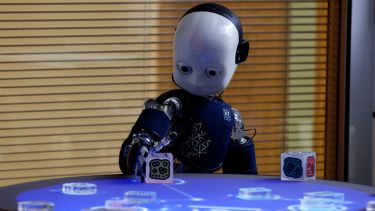 Scientists from the University of Sheffield will be talking about their work and answering pubgoers' questions in venues across the city centre as part of a festival being held this month.
Pint of Science is returning to Sheffield for second time, with this year's line-up bigger and better than before. More than 50 researchers will take to the stage – covering topics as diverse as neutrinos, prison, the internet of things, kidneys and natural disasters.
The international, three-day Pint of Science festival will see thousands of scientists simultaneously standing up and telling the public about their research in over 100 cities across 12 countries. Founded by two UK researchers, the festival brings a unique line up of talks, demonstrations and live experiments to the nation's favourite locals.
In Sheffield, the Pint of Science Festival will run in six city pubs over the three days, with each venue hosting talks on one theme of the festival:
The Holt Café will host 'Atoms to Galaxies'
Harrison's Bar will host 'Beautiful Mind'
Sentinel Brewhouse will host 'Our Body'
The Old Queen's Head will host 'Our Society'
The Sheffield Tap will host 'Planet Earth'
Couch on Campo Lane will host 'Tech Me Out'
Tickets are available from the Pint of Science website www.pintofscience.co.uk, with each evening costing £4. Sheffield attendees will enjoy a variety of exciting talks including:
Are friends electric? with Professor Tony Prescott, Director of Sheffield Robotics – exploring the future of robots and AI as they become more social, and asking the question 'could we one day have personal relationships with robots?'.
Edible experiments: a taste of chemistry with Dr Joanna Buckley – sharing her passion for food and chemistry through edible experiments and by answering those food-based questions you've always wanted to ask.
Research needs a mouse like a fish needs a bicycle with Professor Stephen Renshaw- looking at the use of 'model organisms' in cutting-edge medical research.
In addition to the talks, there will be science-busking performances and a series of fun and interactive activities and demonstrations before and after each talk – including 'Jeopardy with Siri', infrared camera and plasma demonstrations, build a volcano activities and an immersive dark matter experience.
The Sheffield programme has been organised by the University of Sheffield's Public Engagement and Impact Team and a team of student volunteers.
Pint of Science was established five years ago by a group of UK-based postgraduate and postdoctoral researchers. Festival founders Dr Praveen Paul and Dr Michael Motskin wanted to bring back the personal touch to science, giving everyone the chance to meet the real people behind the incredible research taking place in universities across the country. The duo are amazed by the growth of their idea into a global festival, which has spread to 12 countries around the world.
"Science can often get lost in translation, leading to the spread of pseudo-science and myths," said festival co-founder Dr Motskin. "The best way to overcome this is for people to be able to talk to scientists directly in a familiar environment, such as in a pub over a pint.
"We are in awe of how big the festival has become over the years, demonstrating the thirst there is to hear science from the source – the scientists. The festival gives everyone the chance to pick the brains of some of the UK's most brilliant academics, breaking down barriers and giving unrivalled access to the people behind the science."
---
Additional Information
Pint of Science
Pint of Science is a volunteer run initiative. It is coordinated by a small central Pint of Science team who work alongside organisers predominantly based within the various participating universities.
The 2017 programme, announced today, will see UK talks held in London, Oxford, Cambridge, Bath, Birmingham, Bristol, Manchester, Glasgow, Southampton, Exeter, Teesside, York, Portsmouth, Edinburgh, Hull, Leeds, Newcastle, Norwich, Nottingham, Sheffield and Guildford, and (new for 2017) Cardiff, Bournemouth, Canterbury, Liverpool and Durham. Whilst every science evening during the festival is unique, each will include at least two experts presenting their research.
The University of Sheffield
With almost 27,000 of the brightest students from over 140 countries, learning alongside over 1,200 of the best academics from across the globe, the University of Sheffield is one of the world's leading universities.
A member of the UK's prestigious Russell Group of leading research-led institutions, Sheffield offers world-class teaching and research excellence across a wide range of disciplines.
Unified by the power of discovery and understanding, staff and students at the university are committed to finding new ways to transform the world we live in.
Sheffield is the only university to feature in The Sunday Times 100 Best Not-For-Profit Organisations to Work For 2017 and was voted number one university in the UK for Student Satisfaction by Times Higher Education in 2014. In the last decade it has won four Queen's Anniversary Prizes in recognition of the outstanding contribution to the United Kingdom's intellectual, economic, cultural and social life.
Sheffield has six Nobel Prize winners among former staff and students and its alumni go on to hold positions of great responsibility and influence all over the world, making significant contributions in their chosen fields.
Global research partners and clients include Boeing, Rolls-Royce, Unilever, AstraZeneca, Glaxo SmithKline, Siemens and Airbus, as well as many UK and overseas government agencies and charitable foundations.
---
Contact
Kirsty Bowen
Media Relations Officer
kirsty.bowen@sheffield.ac.uk
+44 114 222 1034
A world top-100 university
We're a world top-100 university renowned for the excellence, impact and distinctiveness of our research-led learning and teaching.