Sheffield's Innovators of the future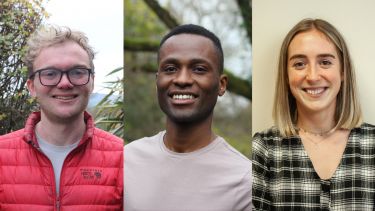 University of Sheffield alumni - Ben White, Ella Hopkin and Tendai Taruvinga - have been recognised as young people with creative and ground-breaking business ideas and a strong potential for innovation. The three graduates were amongst a cohort of 63 winners from across the UK, and will receive a £5,000 grant and one-to-one business coaching from the programme. 
As part of their time at the University, Ben and Ella received support from the University's Entrepreneurship Service team to develop their ideas. For Ella, taking part in ENACTUS, a student-led social enterprise that develops community impact projects, sparked the idea of social enterprise 'Motion'. Ben took part in the Entrepreneurships' Pre-accelerator programme to develop his start-up, 'Sheffield Tribology Services'. The dedicated, 12-week structured Pre-accelerator programme supports recent graduates, students and members of staff to build skills and develop their business idea.
Motion - Ella Hopkin's story
Volunteering with AgeUK in Barnsley gave Ella Hopkin some insight into the challenges faced by older people. That helped to inspire her social enterprise, Motion, which designs interactive exercise programmes to tackle social isolation and promote physical activity. Ella started out delivering in-person exercise sessions in Sheffield care homes and lunch clubs. During the pandemic, Motion had to adapt its delivery methods, developing an online service. It now plans to scale the programme nationwide. Besides improving the lives of users, Ella hopes the initiative will help to prevent, delay, and mitigate the onset of chronic illness, reducing the burden on the NHS. 
The core Motion team consists of founders Ella and Zeezy Qureshi, an intern from the University's Entrepreneurship team, and eight University of Sheffield student volunteers who support Motion through marketing, impact measurement and HR, as well as a team of Motion Motivators who deliver the sessions. The University of Sheffield Entrepreneurship team offered advice and financial support to develop and grow Motion.
I have already learnt a lot about business growth and would encourage any other young aspiring entrepreneurs to consider applying to the programme. I would further recommend reaching out to the entrepreneurship team at University, they were great at supporting me when I first started my journey with Motion.

Ella Hopkin

Motion
Sheffield Tribology Services - Ben White's story  
Ben White developed the business idea for Sheffield Tribology Services with Mike Watson, now co-founder and a staff member at the University of Sheffield. The pair's business aims to provide professional friction and wear testing to the rail industry. "Railways are environmentally friendly and socially inclusive and managing railway adhesion conditions is essential to running a safe and efficient railway," Ben adds. 
Originally a chemistry student at the University of Sheffield, Ben switched to engineering. He joined the University's Entrepreneurship pre-accelerator programme, which helped Ben turn his idea into a business and opened up a number of opportunities for him and Mike.
The Young Innovators programme stood out because of the huge amount of expert advice and mentoring on offer… Developing a new business can be daunting at times, so it's great to know that an organisation as big as Innovate UK believes we can be successful.

Ben White

Sheffield Tribology Services
Over the next year, Ben and Mike plan to build a twin disc test rig that will run a friction and wear consultancy service designed to accelerate the development, optimisation and approval of new products for the rail industry. They are currently seeking additional grant funding to purchase some of the components required to build the test rig.
Veafy - Tendai Taruvinga's story
Tendai Taruvinga studied architecture at Lincoln and Sheffield and went on to work in construction, but in 2019 he stepped away from the sector to rethink his future, which provided time to reconnect with his passion for cooking. Tendai identified a gap in the market for bringing African cuisine to the UK mainstream. "I realised that African food is viewed by many as a niche product and is relatively inaccessible to most people in this country," he explains. 
Tendai's business, Veafy, now delivers tasty, vegan-friendly ready meals. Having started in 2020 with two recipes, he widened his range to nine within a year, each designed to showcase the culinary heritage of a different region – from a west African jollof to a Moroccan tagine. Tendai presented Veafy's product range at the freshers fair in the Octagon in 2021, where he handed out free samples. Over the next year, Tendai plans to scale the business up, moving from domestic to commercial kitchen premises. 
It's an honour to be named as a winner of the Young Innovators Awards 21/22 alongside such a distinguished cohort of future game-changers.

As part of the award, Innovate UK, KTN and the Prince's Trust are providing a fantastic support package which will help me to deliver innovation by raising the profile of Veafy.

Tendai Taruvinga

Veafy
Tendai shares his pride in being a graduate of the University: "The University of Sheffield is one of Britain's iconic civic universities, and a centre of excellence for social innovation."
The Young Innovators Programme is operated in partnership with the Prince's Trust, to drive entrepreneurship and fresh perspectives to today's innovation challenges. It has seen 1,300 applications over the past two years and Innovate UK has allocated £2.2 million to help young people develop their innovative ideas and drive positive and meaningful change over the next 3 years.