Thank you to Sheffield medical students who help transform lives through social accountability project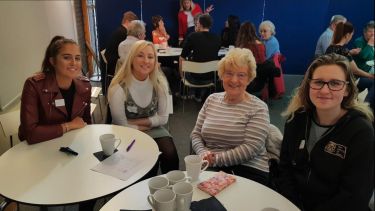 Originally published in Sheffield Star, 8th March 2020
Dozens of representatives from businesses and organisations who have worked in partnership with the medical students on social accountability projects this academic year were in attendance for the event at Samuel Fox House, close to the Northern General Hospital, on March 5.
Unique to Sheffield, the scheme allows medical students to collaborate with community partners and co-produce learning and teaching, research, and knowledge transfer activities, that can similarly demonstrate a positive impact on the health and well-being of the people and communities they serve.
During the event, the young doctors – who each spent four weeks on full-time placements with the various partner organisations – were able to present their work which covered a range of topics including homelessness and mental health and share what they had gained from the experience.
Working with Hope, the group were able to offer their design and technology expertise and attend some of the peer support groups run by Hope.
Pheobe Neaum-Davis said: "A lot of us have an interest in mental health and I think it is really important, even if you want to go into any other types of medicine, to get exposure to those people and we helped out a lot with redesigning the leaflets and the forms which people have to fill out when they want to join Hope.
"Obviously that can be a bit difficult, they need to detail what has happened, so making sure that form was well thought out in a way that was accessible. It worked out really well as they were entering into a lottery funding bid so we were able to help them and find resources for them to get them to the next stage of that which was really impressive and is testament to the charity itself."
The social accountability programme is led by Professor Deborah Murdoch-Eaton, Dean of Medical Education, and has been running since 2015.
I just had a gut feeling it was going to be a good thing to do and boy was I proved right. It has been an amazing experience text...

Rhona Bywater

Partnerships Officer at Sheffield charity, Hope
Hope, a Sheffield charity which formed in 2013 and supports people who have been bereaved or affected by traumatic events such as fire, road traffic collisions, or drowning, joined the initiative for the first time this year working with third-year students Sarah Ibrahim, Phoebe Neaum-Davis, Lucy Givens and Hannah Macaulay.
Charity operations manager, Maryann Quinn, said: "We've been amazingly lucky to have had the group of girls that we had and it goes beyond a joy. They are very knowledgable, very sensitive to the client group that we work with but also the relationships that we've made are going to be lasting."
Partnership officer Rhona Bywater added: "I just had a gut feeling it was going to be a good thing to do and boy was I proved right. It has been an amazing experience."
Hannah Macaulay said: "What I think has been most valuable is learning about the gap that, not only Hope, but these sorts of organisations actually fill within the NHS. Obviously this is specifically a niche mental health support group and mental health is a hugely fragile thing that the whole country doesn't really get enough support for and, at the end of the day, our NHS is not able to provide all that support and also it is not that accessible.
"What I've learned through working with Hope is the type of support that is necessary when people are at breaking point and are at their absolute lowest, and the last thing they're going to want to do is to speak to a healthcare professional where it is very clinical. They actually want to talk to another human being and to be able to connect with someone else.
"It has made me realise the importance of the voluntary sector and how important it is for them to continue running."
For more information on the peer supports groups run by Hope phone 0114 2270105 or email info@hope-sy.org.uk.