University of Sheffield launches Data Connect: A new service to improve researcher access to health and social care data.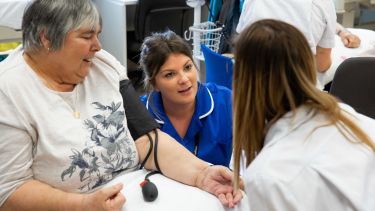 This innovative service will not only streamline the work of researchers within their field but also serve as a valuable resource for health and social care practitioners and policy makers throughout South Yorkshire.
Data Connect will provide infrastructure to secure access to health and social care data, boost university research outputs, and engage with partners and the public to produce data-driven insights to improve South Yorkshire's health outcomes.
Use of the University's Secure Data Service, a highly recognised Secure Data Environment approved by the NHS to securely store health data, will transform how researchers access sensitive health and social care data. This platform will provide improved access to data and support users with a comprehensive suite of support services spanning the entire research lifecycle. 
Developed in consultation with university academics and external stakeholders, this service tackles the many challenges associated with data access in healthcare research head-on. The challenges for researchers are demonstrating that they comply with data protection policies imposed for health data research and overcoming complex data quality issues, to ensure accurate and valid analysis. Data Connect will tackle the problems at source, creating centralised solutions that make accessing data easier for university researchers.
Investment into Data Connect has been aligned with national government Digital, Data and Technology priorities as well as the NHS Digital Transformation. Data Connect will work closely with health and social care data owners and providers throughout South Yorkshire to establish protocols to ensure secure access to data. The analysis and insights gained will provide the data-driven evidence base to improve detection and treatment of health conditions, as well as the provision of essential services.
"The launch of the University of Sheffield Data Connect service is an important strategic opportunity to grow our research and innovation through unlocking the potential that is held in real world health and social care data. The application of cutting edge data science techniques using this data provides the vehicle to deliver improvements to the lives of our population through better detection, diagnosis, care and treatment."

Professor of Emergency Medicine Suzanne Mason

School of Medicine and Population Health at the University of Sheffield.    
Additionally, the service is actively engaging with stakeholders from across Yorkshire and the Humber to contribute to a vital aspect of the NHS Digital Transformation strategy - the Yorkshire and Humber Subnational Secure Data Environment. Led by Bradford Teaching Hospitals and in collaboration with Integrated Care Boards and White Rose Universities in West and North Yorkshire, Data Connect will serve as the primary gateway to health data for the region, working closely with the South Yorkshire Integrated Care Board and the Yorkshire Humber Academic Health Science Network. 
Data Connect is an important tool which will help us improve the wellbeing of people for South Yorkshire. Working in partnership between the NHS and the University of Sheffield academics, this will enable us to harness the power of the health and social care data, routinely collected across the region to be better informed of the needs of our population.

By strengthening our data and analytic capabilities, it will enable us to develop new innovations to detect and treat disease, as well as increasing our ability to evaluate to further improve our services.  The more we know the better placed we will be to tackle health inequalities that sadly affect the communities that we serve. "

Dr David Crichton

Chief Medical Officer at the South Yorkshire Integrated Care Board
Flagship institutes
The University's four flagship institutes bring together our key strengths to tackle global issues, turning interdisciplinary and translational research into real-world solutions.