Vice-Chancellor wins lifetime achievement award for work in the region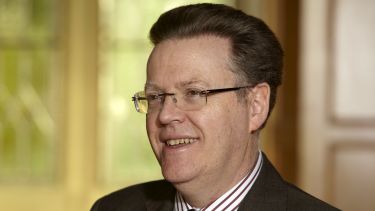 Judges at the City Region Business Awards 2016, which includes representatives from Doncaster, Sheffield, Rotherham & Barnsley and Derbyshire Chambers plus the editor of the Sheffield Star newspaper Nancy Fielder, chose Sir Keith for the lifetime achievement award in recognition of his work for the Sheffield City Region, but also nationally and internationally.
The judges said: "Professor Sir Keith Burnett is by any measure a remarkable and visionary leader – an eminent scientist and President of one of the world's top 100 universities, he is also a fluent speaker of Mandarin who advises the government here in the UK and in China.
"His views are sought by national and international newspaper editors, and he never misses a chance to tell government or the world how we can in Sheffield develop the skills and the companies to transform UK productivity.
"He is also though deeply committed to using knowledge and talented people to transform the lives of ordinary citizens. Under his leadership, Sheffield University has become known as a progressive organisation supporting the advanced manufacturing innovation district and 600 apprentices. He is even now working with Professor Keith Ridgway on a post-Brexit pitch to government for new opportunities in the northern powerhouse."
 
---
I am delighted and moved to have been chosen for this award, and I accept it on behalf of the 27,000 students and 7,000 staff who call the Sheffield City Region home. These staff and students who come to us from over 100 countries make a profound contribution to our whole region. Not only do they work in our hospitals and with local industries, their economic and social contribution is vital to our future.

Sir Keith Burnett

Vice-Chancellor, University of Sheffield
---
"Like all organisations which are truly international, the events of the past week have created uncertainty for many of these wonderful people, so I would also like to thank my fellow business leaders and people of this city for doing all you can to tell the students and researchers who are here now and those who might travel here in the future that this is a city which is open to the world, and where the world can find a place where talent is valued."
Richard Wright, Executive Director of Sheffield Chamber added: "This is a well-deserved award and recognises the leadership that Sir Keith has provided, not only to the university, but to the city and the city region.
"The university is growing and ambitious, it is a massive economic contributor and through its international students the city is known all over the world. What is almost more impressive to us, as a Chamber, is the way it has aligned itself to the economic strategy of the region and invested heavily to help deliver that strategy. The AMRC and the wider Advanced Manufacturing Innovation District are easy examples.
"Lots of people are involved in things like this but without a committed, driven, focused and passionate leader they do not happen and Sir Keith is definitely that. We have a lot to thank him for and I hope he stays many more years. He recognises this is a great city with great potential and we look forward to continuing to work with him."
The City Region Business Awards celebrate the importance of business in the Sheffield City Region's fast-growing economy. The ceremony held at Magna Science Adventure Centre on Thursday 7 July 2016 brought together the winners from four Chambers – Doncaster, Sheffield, Rotherham & Barnsley and Derbyshire – plus the Derbyshire Times Business Awards.
As well as the lifetime achievement award, winners were announced in 12 categories including CSR & Environment Award to Business Person of the Year along with the Outstanding Business of the Year, which the judges chose from the winners of each category.
A world top-100 university
We're a world top-100 university renowned for the excellence, impact and distinctiveness of our research-led learning and teaching.