We're working with Siemens to provide the graduates they need to drive the industries of the future. Our Careers Service delivers a joint recruitment strategy with Siemens in order to increase university engagement and grow the recruitment of University of Sheffield students and graduates.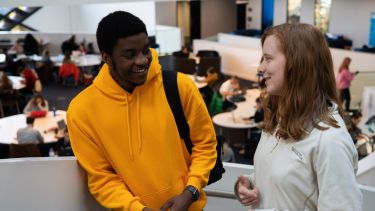 The Careers Service at the University of Sheffield partners with Siemens to help them recruit our top graduates. This collective recruitment strategy includes on-campus initiatives that raise the profile of Siemens and the career options available. Siemens takes the time to engage with and get to know our students, which results in an unrivalled talent stream for them.
The University of Sheffield is now one of Siemens' leading and highest suppliers of UK graduate talent as a result of the partnership and the exceptional recruitment strategy.
---
The strategic recruitment plan with the University of Sheffield has set the bench mark for how we want to work with all of our University partners. It has really allowed us be focused and co-create initiatives together."

Simon Roberts

Head of Talent Acquisition, Siemens UK
---
Siemens regularly promotes their organisation and career opportunities on Career Connect and makes valuable connections with students across all year groups by attending our careers fairs in the Autumn which attract around 3000 students each year.
The Digital Innovation Zone (DIZ) is the global pilot of a new kind of collaboration. Sitting at the heart of the University campus it engages students with unique and stimulating opportunities to develop the skills needed in industry today.
These new technologies represent a radical shift from previous manufacturing processes. Utilising the DIZ resources, our students are working alongside Siemens to get hands on experience in Industrial Digital Technologies (IDTs) and the Internet of Things (IoT).
---
Supporting the UK's industrial strategy
Industrial Digital Technologies (IDTs) and the Internet of Things (IoT) are key to the UK's industrial strategy. But the new technologies on which they rely represent such a radical departure from previous manufacturing processes that there is a critical lack of graduates with the right skills to exploit them.
The DIZ engages students with unique and stimulating opportunities to develop their talents in data visualisation, cybersecurity and data analytics and showcase them to sector leaders.
---
Providing a space to collaborate
Students are given the opportunity to showcase their new skills to Siemens and its partners through initiatives like the annual DIZ Live Hackathon where teams of students compete over 48 hours to build a mechanical/electrical device which showcases the data collected from the network and brought it to life.
150 students from 8 universities have participated so far. Siemens use the event to spot talent and subsequently offered 30+ placements to participants. In addition, Siemens uses the Lounge's meeting and events spaces to bring their suppliers and customers into the space, giving students the opportunity to develop PhD projects of direct relevance to industry.
---
Graduate outcomes
Students who join Siemens are armed with academic knowledge gained in their subject and the Sheffield Graduate Attributes that they have developed during their time at University.  Additionally, their values align with Siemens because they have had opportunities to explore industrial knowledge when engaging with Siemens whilst at Sheffield.
We continue to develop specialised solutions as part of our partnership approach to helping Siemens hire the best individuals to propel their growth into the twenty-first century.
---
Sioned Davies, University of Sheffield engineering student and Siemens Intern of the Year Award Winner
---
To learn more about how we recruit to Siemens contact Employer Engagement Manager:
Tracey Hill